Hatton, Andrew (2004) Undated Ditches in the Grounds of Swaffham Prior Hall, Swaffham Prior: An Archaeological Evaluation. [Client Report] (Unpublished)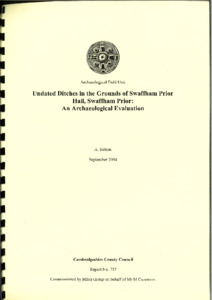 Preview
PDF




CCCAFU_report757.pdf


Available under License Creative Commons Attribution Share Alike.
Download (751kB) | Preview
Abstract
On the 9th and 10th of September 2004 the Archaeological Field Unit (AFU) of Cambridgeshire County Council conducted an archaeological evaluation on land to the rear of Swaffham Prior Hall (TL 5672 6438). The aim of the intervention was to record and assess the nature of any archaeological evidence encountered, given the subject sites location close to the medieval hall and known earthworks, in the grounds also of this date. The work was commissioned by Miles Group on behalf of Mr M Cazenove in advance of the excavation of a lake.
Two trenches totalling 70m in length were opened by machine under archaeological supervision. Trench 1 contained two shallow ditches that may form two sides of a small enclosure. Alternatively the two ditches may be all that remains of grubbed-out hedge lines that one divided-up the landscape. No artefacts were recovered from either of the two ditches. Fragments of burnt flint as well as animal bone were recovered from peaty deposits located at the north-western end of the trench. It was not possible to date the peat layer, however a probably post-medieval date (rather than prehistoric) for the laying down of the peat is likely, given known peaty deposits.
Trench 2 contained no archaeological features or artefacts.
Item Type:
Client Report
Uncontrolled Keywords:
Post-Medieval, post-medieval, post medieval, Post Medieval, Swaffham Prior, swaffham prior, Cambridgeshire, cambridgeshire, peat, peat deposit, peat horizon, post-medieval peat, post-medieval peat horizon, evaluation, Evaluation, archaeological evaluation, ditch, ditches, enclosure ditch, enclosure ditches, hedge, hedgeline, hedge line, hedgerow, 757, report 757, Report 757, OAE report 757
Subjects:
Geographical Areas > English Counties > Cambridgeshire
Period > UK Periods > Post Medieval 1540 - 1901 AD
Depositing User:

Archives

Date Deposited:
25 Apr 2022 12:58
Last Modified:
13 May 2022 10:20
URI:
http://eprints.oxfordarchaeology.com/id/eprint/5335
Actions (login required)