Hinman, Mark and Hatton, Andrew (2004) Additional Evaluation Trenching on Land East of St. Neots, Cambridgeshire: Archaeological Update. [Client Report] (Unpublished)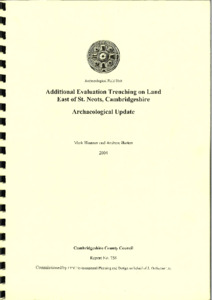 Preview
PDF




CCCAFU_report758.pdf


Available under License Creative Commons Attribution Share Alike.
Download (1MB) | Preview
Abstract
Between the 27th September and 1st October 2004 the Archaeological Field Unit (AFU) of Cambridgeshire County Council undertook the excavation of 13 trenches at Love's Farm, St. Neots. This was in addition to the 76 trenches excavated during the 2003 evaluation. The work was commissioned by CPM Environmental Planning and Design on behalf of JJ Gallagher Ltd in advance of residential development. This report should not be considered as a stand alone document and must be read in conjunction with the AFU Report no 700 'Land East of St. Neots, Cambridgeshire' (Hinman 2004).
The excavation of additional trenches within Fields 2, 3, 4, and 7 has added to the information recovered from the original evaluation. This work has further defined the presence of late pre-Roman Iron Age and Roman occupation in the south-western quadrant of the proposed development. Evidence of prehistoric activity on the site has been enhanced through the excavation of the additional trenches.
A series of features tentatively ascribed to the earlier prehistoric period were revealed within Fields 2 and 3. No additional archaeological features were revealed within the northernmost part of the site.
Item Type:
Client Report
Uncontrolled Keywords:
St Neots, st neots, Cambridgeshire, cambridgeshire, Iron Age, iron age, Roman, roman, palaeochannel, 758, report 758, Report 758, CCCAFU report 758, Evaluation, evaluation, archaeological evaluation, Loves Farm, Love's Farm, Iron Age features, iron age features, Roman features, roman features, features
Subjects:
Geographical Areas > English Counties > Cambridgeshire
Period > UK Periods > Iron Age 800 BC - 43 AD
Period > UK Periods > Iron Age 800 BC - 43 AD > Late Iron Age 100 BC - 43 AD
Period > UK Periods > Roman 43 - 410 AD
Depositing User:

Archives

Date Deposited:
13 May 2022 10:26
Last Modified:
13 May 2022 10:26
URI:
http://eprints.oxfordarchaeology.com/id/eprint/5336
Actions (login required)