Fletcher, Taleyna (2004) Medieval Ditches at The New Vicarage, 2 Fulbourn Old Drift, Cherry Hinton, Cambridge: An Archaeological Excavation. [Client Report] (Unpublished)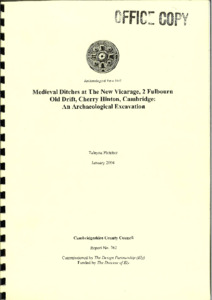 Preview
PDF




CCCAFU_report762.pdf


Available under License Creative Commons Attribution Share Alike.
Download (2MB) | Preview
Abstract
In early October 2004, the Archaeological Field Unit of Cambridgeshire County Council conducted an archaeological excavation on land at The New Vicarage, Cherry Hinton, Cambridge (TL 4905 5702). The work was carried out on behalf of The Diocese of Ely in advance of the construction of a new parsonage.
Evaluation of the site consisted of two trenches, one of which identified several features including a series of ditches, a possible post pit and four post holes. The pottery recovered dated these features to the 10th and 11th centuries. In the second trench a single post hole which contained a piece of 19th century brick.
The subsequent investigation was within the footprint of the proposed new parsonage which, given the results of the previous investigation, was considered to be an area of high archaeological potential.
The excavation revealed at least four phases of activity, comprising several ditches, a well and a modern fence line. These features represent phases of medieval and post-medieval boundary activity possibly associated with the back plots of enclosed areas which may have fronted on to the High Street. A small assemblage of pottery was recovered during the excavation, largely dating to the 12th to 14th century.
Item Type:
Client Report
Uncontrolled Keywords:
Cherry Hinton, cherry hinton, Cambridgeshire, cambridgeshire, 762, medieval, Medieval, post-medieval, Post-Medieval, post medieval, post-medieval, report 762, Report 762, Excavation, excavation, archaeological excavation, well, ditch, boundary ditch, medieval boundary ditch, post-medieval boundary ditch, medieval well, modern fenceline, modern fence line, back plot, medieval back plot, medieval pottery, pottery, Pottery, pot, ceramic, sherd, vessel
Subjects:
Geographical Areas > English Counties > Cambridgeshire
Period > UK Periods > Medieval 1066 - 1540 AD
Period > UK Periods > Modern 1901 - present
Period > UK Periods > Post Medieval 1540 - 1901 AD
Depositing User:

Archives

Date Deposited:
06 Apr 2022 11:32
Last Modified:
06 Apr 2022 11:32
URI:
http://eprints.oxfordarchaeology.com/id/eprint/5339
Actions (login required)