Cooper, Spencer (2004) Bronze Age Remains at Brigg's Farm, Thorney, Peterborough, Cambridgeshire. [Client Report] (Unpublished)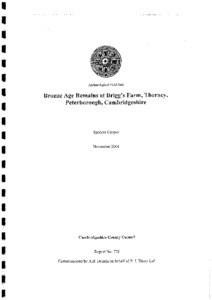 Preview
PDF




CCCAFU_report778.pdf


Available under License Creative Commons Attribution Share Alike.
Download (16MB) | Preview
Abstract
Between 2nd and 23rd November 2004 an archaeological evaluation was undertaken at Brigg's Farm, Thorney, Cambridgeshire (TF 2500 0050) by staff of the Archaeological Field Unit (AFU) of Cambridgeshire County Council. The proposed development includes excavation of a reservoir, borrow pits, settlement lagoons, a processing plant for sand and gravel, an area for the temporary stockpiling of minerals during the course of the construction, and a haul roads to and from the site,
From the outset it was anticipated that a 'Flag Fen' type landscape would be uncovered. Recent archaeological investigations within the Thorney area have identified Bronze Age burial mounds and rectilinear field system.
The evaluation has contributed to the understanding of prehistory on the Thorney Island. It has revealed considerable Bronze Age activity in the form of a barrow, a well, a possible wooden trackway and field boundaries.
Item Type:
Client Report
Uncontrolled Keywords:
archaeological evaluation, evaluation, Evaluation, environmental appraisal, Cambridgeshire, cambridgeshire, Peterborough, peterborough, Thorney, thorney, 778, report 778, Report 778, CCCAFU report 778, Bronze Age, bronze age, oval earthwork, earthwork, earthworks, barrow, stake hole, field system, field ditch, boundary ditch, field boundary, field boundaries, wood, worked wood, wooden, timber, trackway, worked oak plank, well, stock well, wattle, animal bone, animal bones, animal remains, bone, bones, burnt bone, cremation, Post-Medieval, post-medieval, claying ditch, ditch, clay pipe, CTP, ctp, Clay Tobacco Pipe, clay tobacco pipe
Subjects:
Geographical Areas > English Counties > Cambridgeshire
Period > UK Periods > Bronze Age 2500 - 700 BC
Period > UK Periods > Post Medieval 1540 - 1901 AD
Depositing User:

Archives

Date Deposited:
07 Jan 2020 12:57
Last Modified:
07 Jan 2020 12:58
URI:
http://eprints.oxfordarchaeology.com/id/eprint/5350
Actions (login required)