Smith, Kirsty A40 Park & Ride, Eynsham, Oxfordshire. [Client Report] (Unpublished)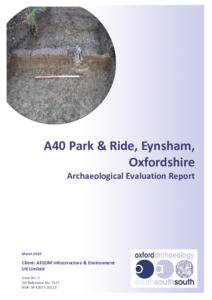 Preview
PDF




EYPR18.pdf


Download (11MB) | Preview
Abstract
Oxford Archaeology (OA) was commissioned by AECOM Infrastructure & Environment UK Limited (AECOM) on behalf of Oxfordshire County Council to undertake an archaeological evaluation of the site of a proposed Park & Ride
development. Forty-one trenches were excavated, which investigated various geophysical anomalies of uncertain origin identified during a previous magnetometer survey. Further trenches were located in apparently blank
areas to test the reliability of the survey results.
Several Iron Age prehistoric features were found within Trench 19 and adjacent Trench 22. A possible ring ditch on the geophysical survey plot coincides with the densest concentration of Iron Age features and finds in
Trench 22, including an assemblage of fired clay oven fragments and pottery.
This is likely to be the site of a roundhouse. Some of the fired clay fragments had wattle impressions indicating an associated wall or floor structure. The artefact assemblage from these two trenches included both early and late Iron
Age pottery. The limited extent of the site, and apparent lack of a settlement enclosure, suggests that this was a small unenclosed farmstead. No environmental soil samples were recovered from the Iron Age features, which
were heavily plough-disturbed, poorly defined and shallow. Iron Age artefact groups occurred as residual finds in contexts otherwise dated to the medieval
period.
Trench 30, located 350m west of Trench 22, contained two ditches tentatively dated to the Iron Age by small amounts of pottery, which may be outlying field or trackway ditches associated with the same settlement. A soil spread in the
same trench (3008) contained one sherd of Roman pottery, the only distinctively Roman material recovered during the evaluation.
Plough furrows aligned NE-SW were recorded across the site, and were sample excavated in Trenches 14, 21, 22, 25, 26, 27, 35, 36, 40 and 41. This confirmed the presence of former ridge-and-furrow, as previously recorded
from the geophysical survey and the aerial photographic analysis undertaken as part of the desk-based assessment. Medieval pottery was recovered from several of the plough furrows, while post-medieval artefacts were recovered
exclusively from the overlying ploughsoil.
A brick boundary wall with a probable gatepost was found in Trench 41. This was clearly associated with a nearby field boundary and an agricultural outbuilding shown on late 19th/early 20th-century OS maps, which was first
mapped in 1899 and appears to have been demolished by the 1950s. According to the historic maps the outbuilding itself was located between Trenches 38 and 41.
Actions (login required)