Kenney, Scott (2005) Peterborough to Whittlesey Reinforcement Main: An Archaeological Desk-Based Assessment. [Client Report] (Unpublished)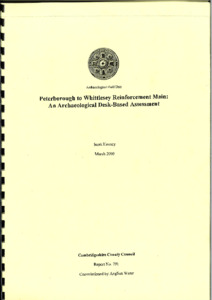 Preview
PDF




CCCAFU_report791.pdf


Available under License Creative Commons Attribution Share Alike.
Download (1MB) | Preview
Abstract
This study attempts to define the archaeological potential of land along the route of the proposed Peterborough to Whittlesey Reinforcement Main, running approximately from TL 1913/9588 to TL 2351/9585. It also attempts to determine the potential impact of the development proposals upon the archaeological resource and suggests possible mitigation strategies. The study was commissioned by Anglian Water. It is largely based upon existing sources, and the results of recent excavations adjacent to the proposed route.
The proposed route begins just south of the point at which Fletton Parkway crosses the old railway and then passes to the south of Stanground and north of Farcet heading eastwards. It then passes to the south of Horsey Toll and joins the existing main at Narrow Drove, south of King's Delph reservoir.
The study area lies within a zone of high archaeological potential crossing the Fen Edge, and areas that have been islands within the Fen at various times. The entire Stanground to Whittlesey area is rich in archaeological sites from the prehistoric period onwards.
Prehistoric finds have also been discovered close to the route, and further abroad in the Fen, while the internationally important Bronze Age site of Flag Fen is only 2.5km to the north, and the potential exists to find similar sites. A possible Bronze Age barrow has been identified at the eastern end of the route.
Probably the greatest potential of the development corridor is for the discovery of further Roman remains, of which numerous examples have already been recovered, both as stray finds and during excavations. The pipeline route converges with that of the proposed road associated with the potential future southward expansion of Stanground. The area of these proposals has been subject to archaeological investigations that have revealed Roman enclosures and other features.
In the area around the Scheduled Ancient Monument of Horsey Hill Civil War Fort, any development may reveal 17th century artefacts, both military and civilian, and could potentially reveal the location of earthworks that have been subsequently ploughed out.
Previous aerial photographic and geophysical surveys have been useful in establishing the location of archaeological remains within the study area. Further geophysical work along the route may be helpful in refining the characterisation of these remains.
Item Type:
Client Report
Uncontrolled Keywords:
Peterborough, peterborough, Whittlesey, whittlesey, Cambridgeshire, cambridgeshire, 791, report 791, Report 791, CCCAFU report 791, fen edge, flag fen, Flag Fen, Bronze Age, bronze age, barrow, Roman, roman, pipeline, Horsey Hill Civil War Fort, horsey hill, post-medieval, Post-Medieval, post medieval, Post Medieval, DBA, dba, Desk-based Assessment, desk-based assessment, Desk-Based Assessment
Subjects:
Geographical Areas > English Counties > Cambridgeshire
Period > UK Periods > Bronze Age 2500 - 700 BC
Period > UK Periods > Post Medieval 1540 - 1901 AD
Period > UK Periods > Roman 43 - 410 AD
Depositing User:

Archives

Date Deposited:
07 Feb 2020 11:55
Last Modified:
07 Feb 2020 11:55
URI:
http://eprints.oxfordarchaeology.com/id/eprint/5373
Actions (login required)