Atkins, Robert (2005) Early Post-Medieval Quarry Pits on land at the Rear of 8-10 The Row, Sutton: An Archaeological Evaluation. [Client Report] (Unpublished)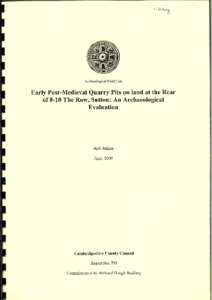 Preview
PDF




CCCAFU_report793.pdf


Available under License Creative Commons Attribution Share Alike.
Download (1MB) | Preview
Abstract
During the 17th and 18th March 2005 the Archaeological Field Unit (AFU) of Cambridgeshire County Council conducted an archaeological evaluation on land to the rear of 8-10 The Row, Sutton, Cambridgeshire (TL 4426 7865) in advance of construction of two houses.
Three trenches (total length 31.9m) were excavated within the proposed development area (c.0.1ha). The site was on a steep southern slope.
The only archaeological features on the site comprised eleven early post-medieval quarry pits (16th to 17th centuries). The sand from the quarry pits were used for new house building - possibly in The Row itself. The western part of Sutton seems to have been expanded in this period as other quarry pits have been found 250m to the west behind the High Street (Hatton 2001). In contrast, archaeological evaluations and excavations to the east of the site have not found post-medieval quarry pits. After being quarried the pits were backfilled, some with moderate to large amounts of domestic waste.
Item Type:
Client Report
Uncontrolled Keywords:
Sutton, sutton, Cambridgeshire, cambridgeshire, 793, quarry, quarry pits, post-medieval, Post-Medieval, post medieval, Post Medieval, quarrying, extractive pit, extractive pits, post-medieval quarry pit, post-medieval extractive pit, evaluation, Evaluation, archaeological evaluation, report 793, Report 793, CCCAFU report 793, Medieval, medieval, Pottery, pottery, pot, ceramic, sherd, vessel, Medieval pottery, medieval pottery, post-medieval pottery, Post-Medieval pottery, post medieval pottery, Post Medieval pottery, animal bone, animal bones, animal remains, bone, bones
Subjects:
Geographical Areas > English Counties > Cambridgeshire
Period > UK Periods > Post Medieval 1540 - 1901 AD
Depositing User:

Archives

Date Deposited:
21 May 2021 12:04
Last Modified:
21 May 2021 12:12
URI:
http://eprints.oxfordarchaeology.com/id/eprint/5375
Actions (login required)