Cooper, Spencer (2005) Manor House, Glinton, Cambridgeshire: An Archaeological Evaluation. [Client Report] (Unpublished)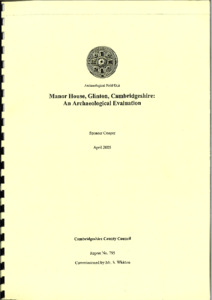 Preview
PDF




CCCAFU_report795.pdf


Available under License Creative Commons Attribution Share Alike.
Download (974kB) | Preview
Abstract
Between the 21st and 25th February 2005 an archaeological evaluation was undertaken at Manor House, Glinton (TF 1563 0605), by staff of the Archaeological Field Unit (AFU) of Cambrigeshire County Council. The proposed development includes the construction of residential houses. A Brief was issued by Ben Robinson of the Peterborough City Council Archaeological Service.
Trench 1 revealed post-medieval occupation relating to the Manor House while Trench 2 revealed post-medieval features with a residual medieval component. Trench 3 revealed a posthole and a number of ditches which may be medieval in origin. Trench 4 revealed a number of postholes some of which contained medieval pottery, suggesting the presence of medieval buildings in the development area. No archaeological features were encountered in Trench 5.
The evaluation has made a useful contribution to current knowledge of Glinton. The medieval features identified may aid understanding the nature of the development of the village during the medieval period.
Item Type:
Client Report
Uncontrolled Keywords:
Glinton, glinton, Cambridgeshire, cambridgeshire, Peterborough, peterborough, evaluation, Evaluation, archaeological evaluation, 795, report 795, Report 795, CCCAFU report 795, medieval, Medieval, post-medieval, Post-Medieval, post medieval, Post Medieval, Manor House, manor house, manor, post hole, posthole, post holes, postholes,ditch, ditches, medieval pottery, Medieval pottery, pottery, Pottery, pot, ceramic, sherd, settlement, village
Subjects:
Geographical Areas > English Counties > Cambridgeshire
Period > UK Periods > Medieval 1066 - 1540 AD
Period > UK Periods > Post Medieval 1540 - 1901 AD
Depositing User:

Archives

Date Deposited:
14 Jan 2020 08:22
Last Modified:
14 Jan 2020 08:23
URI:
http://eprints.oxfordarchaeology.com/id/eprint/5377
Actions (login required)