Hickling, Steve (2005) Medieval Rural Settlement at Willow Brook Farm, Maxey, 2004: Post-Excavation Assessment. [Client Report] (Unpublished)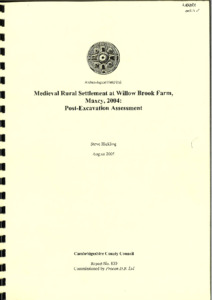 Preview
PDF




CCCAFU_report800.pdf


Available under License Creative Commons Attribution Share Alike.
Download (4MB) | Preview
Abstract
Excavations in 2004 by Cambridge County Council Archaeological Field Unit (CCC AFU) were funded by Procon D.B. Ltd, following their acquisition of a former farmyard for residential development and in response to a brief issued by Ben Robinson for archaeological investigations following an evaluation in 2003.
Maxey is a dispersed settlement, with the modern focus being West End; Castle End lies to its north, focussed on a large medieval moated site. The recent excavations lie within this latter area and are related to properties along the Castle End Road frontage. The earliest features date to the 10th to mid 12th century, activity being characterised by small ditches, pits and post holes relating to backyards. Activity increased in the period 1150-1350, and a possible change in property alignments was noted. Settlement appears to have declined in the period c.1350 to 1450. Pitting included a large quarry or water hole, while a possible stone-lined drain was also recorded. The late medieval period saw the appearance of stone buildings, a hearth or oven and another possible stone-lined drain. Few features dating to the post-medieval period were recorded, although they include ditches, pits and a second possible drainage feature.
The ceramic assemblage confirms the largely domestic character of the settlement (with forms such as jugs, bowls, jars and a curfew or fish smoker), supplemented by environmental and artefactual evidence. The low densities of crop processing waste reaching the site indicate that cereals were probably imported as batches of prime grain. Some of the small group of metal objects may indicate craft activity (awls and punches having been found), while the faunal remains and bone objects may suggest horse knackering and working with hides and skins. Wildfowling was also evident.
Although this was a relatively modest excavation, when combined with recent work elsewhere in Maxey and supplemented by documentary evidence, the site has the potential to increase current knowledge of the medieval village substantially. In addition, the ceramic assemblage will contribute to an on-going research project into the medieval pottery industry of Cambridgeshire.
Item Type:
Client Report
Uncontrolled Keywords:
Maxey, maxey, Cambridgeshire, cambridgeshire, Peterborough, peterborough, 800, report 800, Report 800, CCCAFU report 800, medieval, Medieval, settlement, pottery, Pottery, pot, ceramic, sherd, vessel, Medieval pottery, medieval pottery, yard, yards, backyard, backyards, PXA, pxa, Post-Excavation Assessment, Post-excavation Assessment, post-excavation assessment, boundary, property boundary, property boundaries, plots, drain, stone-lined drain, stone lined drain, well, waterhole, watering hole, quarry pit, quarrying, extractive pit, hearth, oven, building, structure, medieval building, medieval hearth, medieval oven, animal bone, animal bones, animal remains, bone, bones, worked bone, awl, awls, faunal remains, knackering, leather working, Post-Medieval, post-medieval, post medieval, Post Medieval
Subjects:
Geographical Areas > English Counties > Cambridgeshire
Period > UK Periods > Medieval 1066 - 1540 AD
Period > UK Periods > Post Medieval 1540 - 1901 AD
Depositing User:

Archives

Date Deposited:
18 Jun 2021 11:54
Last Modified:
18 Jun 2021 11:54
URI:
http://eprints.oxfordarchaeology.com/id/eprint/5382
Actions (login required)