Mortimer, Richard (2005) Newnham Croft Primary School, Cambridge: An Archaeological Evaluation. [Client Report] (Unpublished)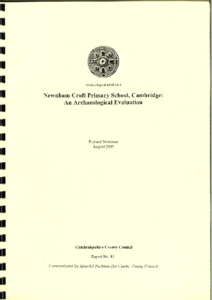 Preview
PDF




CCCAFU_report811.pdf


Available under License Creative Commons Attribution Share Alike.
Download (896kB) | Preview
Abstract
On the 30th of June 2005, the Archaeological Field Unit of Cambridgeshire County Council conducted an archaeological evaluation within the area of a proposed development at Newnham Croft Primary School, Cambridge, Cambridgeshire. The development comprises an extension to the playground and the construction of an all-weather sports pitch.
Two trenches were excavated, totalling thirty-seven metres in length. A single feature was recorded; a shallow, undated ditch aligned northeast-southwest.
Datable artefactual material was recovered from the topsoil only - a few very heavily abraded Romano-British pottery sherds and a larger quantity of 17th to 20th century material including clay pipes, pottery, nails, a gun flint and objects relating to the more recent land-use as school grounds.
Item Type:
Client Report
Uncontrolled Keywords:
Cambridge, cambridge, Cambridgeshire, cambridgeshire, 811, report 811, Report 811, CCCAFU report 811, Roman-British, romano-british, roman, Roman, post-medieval, Post-Medieval, pot medieval, Post Medieval, modern, Modern, post-medieval pottery, Post-Medieval pottery, pot medieval pottery, Post Medieval pottery, modern pottery, Modern pottery, pottery, Pottery, pot, ceramic, sherd, gun flint, nail, clay pipe
Subjects:
Geographical Areas > English Counties > Cambridgeshire
Period > UK Periods > Modern 1901 - present
Period > UK Periods > Post Medieval 1540 - 1901 AD
Period > UK Periods > Roman 43 - 410 AD
Depositing User:

Archives

Date Deposited:
20 Jan 2020 13:22
Last Modified:
20 Jan 2020 13:22
URI:
http://eprints.oxfordarchaeology.com/id/eprint/5393
Actions (login required)