Atkins, Robert (2005) Medieval Remains at Well House Meadow, Haslingfield, Cambridgeshire: An Archaeological Watching Brief. [Client Report] (Unpublished)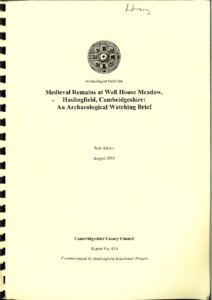 Preview
PDF




CCCAFU_report814.pdf


Available under License Creative Commons Attribution Share Alike.
Download (1MB) | Preview
Abstract
An archaeological watching brief was carried out on 27th July 2005 by the Archaeological Field Unit of Cambridgeshire County Council (CCC AFU) on land at Well House Meadow, Haslingfield, Cambridgeshire (TL 40427 52260). The work was undertaken in advance of the transplantation of a local bakehouse and toilet (dating to c.1800) and construction of toilet as part of a Local Heritage Initiative scheme (The Haslingfield Bakehouse Project).
The new foundation trenches to accommodate the bakehouse covered an area measuring 6.5m by 4m adjacent to the present Broad Lane (former Vicarage Lane). Watching brief observations comprised an 11th- or 12th century boundary ditch as well as five 13th- to early 14th century pits. The boundary ditch ran perpendicular to Broad Lane, possibly implying that the adjacent road dates from this period. Moderate amounts of domestic waste were recovered from most of the features indicating that the site was probably within a backplot close to occupation. This suggestion is supported by evidence from a soil sample taken from the boundary ditch which showed that the site once lay within damp grassland.
The area was abandoned in the middle 14th century and given over to ploughing with all earlier features sealed by a 0.55m thick layer. Documentary and map evidence records that the site became part of the parkland of Haslingfield Hall by 1541 and in recent times this land has becomes a publicly-owned meadow.
Item Type:
Client Report
Uncontrolled Keywords:
Watching Brief, watching brief, Haslingfield, haslingfield, Cambridgeshire, cambridgeshire, medieval, Medieval, ditch, boundary ditch, backplot, garden, housing, 814, report 814, Report 814, CCCAFU report 814
Subjects:
Geographical Areas > English Counties > Cambridgeshire
Period > UK Periods > Medieval 1066 - 1540 AD
Depositing User:

Archives

Date Deposited:
06 Jan 2020 13:30
Last Modified:
06 Jan 2020 13:30
URI:
http://eprints.oxfordarchaeology.com/id/eprint/5397
Actions (login required)