Clarke, Rachel (2005) Medieval and Post-Medieval Remains at 11-12 High Street, Huntingdon. [Client Report] (Unpublished)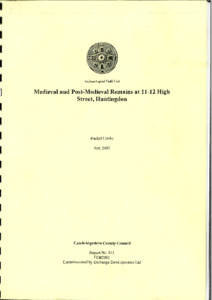 Preview
PDF




CCCAFU_report815.pdf


Available under License Creative Commons Attribution Share Alike.
Download (2MB) | Preview
Abstract
In July 2005, the Archaeological Field Unit of Cambridgeshire County Council (CCC AFU) conducted an archaeological evaluation, comprising a single trench, on a small parcel of land to the rear of 11-12 High Street, Huntingdon. The site is in a potentially significant location within the historic town, to the north of the castle, and was thought to lie on the projected course of the pre-1322 High Street.
Deep, well-preserved deposits were identified to a depth of approximately 3m (including 0.7m of modern overburden) below the current ground surface. The earliest deposits identified probably date to the Norman/post-Conquest period. These appear to be the fills of a large, possibly linear, feature, which may have been levelled off or deliberately infilled in the 12th or early 13th century.
A thick layer containing 13th-century pottery, animal bone and other occupation debris was recorded across the trench, sealed by remnants of a cobbled surface and truncated by ?early post-medieval post holes. The latter may be the remains of outbuildings or fences to the rear of the High Street frontage properties; the current buildings, including Nos 11-12, are group-listed (Grade 2) and are thought to date to the 18th century, although earlier elements are present.
The route of the pre-1322 High Street was not identified, but this could conceivably tie to the north or south of the evaluation trench.
Various port-medieval levelling/layers and dumps were recorded overlying the medieval deposits; the latest feature was a square-cut pit containing 19th- and 20th-century rubbish. Wall foundations and floors associated with the ?Victorian laundry, outside toilets and associated outbuildings that were demolished prior to the evaluation were also present, although these did not impact on the medieval deposits.
A moderate finds assemblage, comprising medieval and later pottery, animal bone, glass, tile and clay-pipe was recovered, reflecting the small scale of the investigation. Evidence of reworking/residuality was present within the assemblage as Roman tile and Saxo-Norman pottery was identified in later deposits, although this is not unexpected in an urban environment. This assemblage, combined with the data recovered from the environmental samples, is characteristic of domestic rubbish disposal, and includes evidence for small scale (secondary) butchery, cooking and crop-processing.
The results from this evaluation can be added to the growing body of archaeological data for Huntingdon, in particular the recent excavations by the CCC AFU at Hartford Road and Walden House, and will hopefully help to inform future strategies and research priorities for this historic town.
Item Type:
Client Report
Uncontrolled Keywords:
Huntingdon, huntingdon, Cambridgeshire, cambridgeshire, 815, report 815, Report 815, CCCAFU report 815, medieval, Medieval, post-medieval, Post-Medieval, post medieval, Post Medieval, High Street, high street, Norman, norman, conquest, post conquest, pottery, Pottery, pot ceramic, sherd, Medieval pottery, medieval pottery, post-medieval pottery, Post-Medieval pottery, post medieval pottery, Post Medieval pottery, animal bones, animal bone, animal remains, bone, bones, butchery, butchery mark, butchery marks, CBM, cbm, Ceramic Building Material, ceramic building material, tile, tiles, medieval tile, clay pipe, CTP, ctp, clay tobacco pipe, Clay Tobacco Pipe, surface, cobbles, cobbled, cobbled surface, post hole, post holes, posthole, postholes, crop processing, floor, surface, floor surface, Victorian, victorian, laundry, Laundry, outbuilding, toilet
Subjects:
Geographical Areas > English Counties > Cambridgeshire
Period > UK Periods > Medieval 1066 - 1540 AD
Period > UK Periods > Post Medieval 1540 - 1901 AD
Depositing User:

Archives

Date Deposited:
16 Dec 2019 10:44
Last Modified:
16 Dec 2019 10:44
URI:
http://eprints.oxfordarchaeology.com/id/eprint/5398
Actions (login required)