Clarke, Rachel (2005) A141 to Norwood Road, March - Anglian Water Pipeline Archaeological Evaluation. [Client Report] (Unpublished)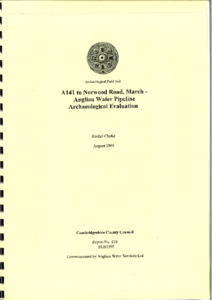 Preview
PDF




CCCAFU_report818.pdf


Available under License Creative Commons Attribution Share Alike.
Download (991kB) | Preview
Abstract
A small evaluation, comprising 282m of trenching, was undertaken by the Cambridgeshire County Council Archaeological Field Unit (CCC AFU) along the route of a proposed Anglian Water pipeline from the A141 to Norwood Road in March, Cambridgeshire.
Limited evidence for prehistoric activity, in the form of a small Early Neolithic utilised flint flake, was found in the topsoil during machining of trench 1.
Six small, modern ditches aligned approximately north to south were identified in the western half of trench 1, and two extensive, possibly linear, modern truncations were recorded in trenches 4 and 5. Trenches 2 and 3 contained no archaeological features.
No subsoil survived in any of the trenches, and this combined with the general absence of artefacts in the topsoil and the presence of a number of modern features indicates that the site (at least along the route of the pipeline) has been subject to recent disturbance and/or truncation. This is most likely to have been associated with the construction of the railway and embankment to the immediate south of the evaluation in the 19th century.
Item Type:
Client Report
Uncontrolled Keywords:
March, march, Cambridgeshire, cambridgeshire, report 818, Report 818, 818, CCCAFU report 818, early neolithic, Early Neolithic, Flint Flake, flint, Flint, flint flake, Early Neolithic flint flake, Early Neolithic Flint Flake, early neolithic flint flake, lithic, lithics, lithic implement, early neolithic, modern ditches, Modern Ditches, ditches, Ditches, ditch, Ditch, modern features, Modern Features, Modern features, feature, modern feature, embankment, railway embankment, truncation, pipe line, pipeline
Subjects:
Geographical Areas > English Counties > Cambridgeshire
Period > UK Periods > Neolithic 4000 - 2200 BC > Early Neolithic 4000 - 3000 BC
Period > UK Periods > Modern 1901 - present
Period > UK Periods > Post Medieval 1540 - 1901 AD
Depositing User:

Archives

Date Deposited:
16 Dec 2019 10:20
Last Modified:
16 Dec 2019 10:20
URI:
http://eprints.oxfordarchaeology.com/id/eprint/5400
Actions (login required)