Hickling, Steve (2006) Medieval and Post-Medieval Remains at No.19 West End Road, Maxey, Cambridgeshire: An Archaeological Excavation. [Client Report] (Unpublished)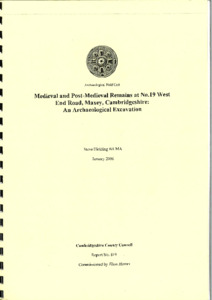 Preview
PDF




CCCAFU_report819.pdf


Available under License Creative Commons Attribution Share Alike.
Download (4MB) | Preview
Abstract
During 2005 an archaeological excavation at No.19 West End Road, Maxey, was carried out in response to a development of four houses. This was preceded by an evaluation consisting of three trenches, which had revealed a large number of medieval features.
This excavation produced evidence of medieval occupation and development in this area of Maxey from the 12th-century onwards. The features discovered included pits, postholes, boundary ditches, stone-walls and a well, generally representing backyard activity of plots fronting onto West End Road.
The main north to south property boundary was found to be located equidistant from the modern property boundaries to the east and west, both of which were c.40m (2 chains) away. Many other modern property boundaries in the village have been found to be at similar distances apart.
The structural evidence found follows a logical line of development from the earliest (12th-century) timer building types, through dry-stone dwarf walls presumably supporting wooden box frame constructions, to the wholly stone and mortar construction of No.19 West End Road (c.1700).
A limestone-lined well of 13th- to 14th-century date, was discovered adjacent to the north to south boundary. Access to the step well was achieved by the use of five surviving steps leading down underground. The feature appears to have fallen out of use in the 15th century.
Most of the features discovered were quarry pits of various dates for the extraction of gravel. This gravel would probably have been used for yard surfaces and perhaps for surfacing the adjacent road.
During the high medieval period, wheat and barley were the predominant crops, with evidence for sheep rearing and the presence of horses (perhaps for traction). In the late medieval period, other crops such as oat, rye and pea are in evidence. Evidence for hunting of wild game in the nearby fen only appears in the late medieval period (a crane bone).
In conjunction with the previous sites excavated in the medieval cores of Maxey (Willow Brook Farm and the Coalyard) a picture of the modern village's origins and development is now emerging.
Item Type:
Client Report
Uncontrolled Keywords:
Maxey, maxey, Cambridgeshire, cambridgeshire, Peterborough, peterborough, medieval, Medieval, 12th century, 12th Century, well, Well, wells, Wells, limestone-lined well, 13th century, 13th Century, 14th century, 14th Century, 15th century, 15th Century, pit, Pit, pits, Pits, postholes, Postholes, Post Hole, post hole, Post Holes, post holes, boundary ditches, Boundary Ditches, boundary ditch, ditch, Ditch, Ditches, ditches, stone-walls, Stone-walls, stone walls, Stone Walls, wall, walls, stone, stone built, dry stone, stone wall, quarry pits, quarry pit, extractive pit, Quarry Pits, quarry, Quarry, step well, Step Well, Step well, building, structure, urban development, animal bone, animal bones, animal remains, bone. bones, horse, sheep, crane, wild game, wheat, barley, oats, pottery, Pottery, pot, ceramic, sherd, Medieval pottery, medieval pottery, report 819, 819, Report 819, CCCAFU report 819
Subjects:
Geographical Areas > English Counties > Cambridgeshire
Period > UK Periods > Medieval 1066 - 1540 AD
Period > UK Periods > Post Medieval 1540 - 1901 AD
Depositing User:

Archives

Date Deposited:
16 Dec 2019 09:33
Last Modified:
16 Dec 2019 09:33
URI:
http://eprints.oxfordarchaeology.com/id/eprint/5402
Actions (login required)