Kemp, S. N. (2005) An Archaeological Desk-Based Assessment of Land between Felixstowe Road and Main Road, Martlesham, Suffolk. [Client Report] (Unpublished)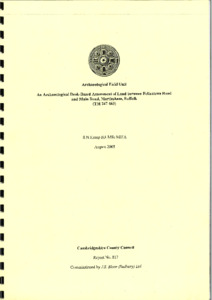 Preview
PDF




CCCAFU_report817.pdf


Available under License Creative Commons Attribution Share Alike.
Download (2MB) | Preview
Abstract
This report presents the results of research resulting from a thorough examination of the archaeological data held by the Suffolk County Sites and Monuments Record (SMR), cartographic materials and secondary historical records such as Suffolk County Council's Parish Histories and the Victoria County Histories (held by Ipswich Record Office) and the aerial photographs (held by the National Monuments Record and Suffolk County Council). These examinations were supplemented by a field visit undertaken by the author in the company of Rog Palmer of Air Photo Services.
Results of the study indicate the continued survival of a World War II pill-box or battle headquarters within the site and the remains of the mill adjacent to Mill Farmhouse. The latter has been partially excavated by the Suffolk Mills Study Group.
Although the SMR indicates that archaeological finds have been recovered from within and around the subject site in the past, there is as yet no conclusive evidence for the presence and survival of prehistoric, Roman and Saxon remains. Recent archaeological work has called into question earlier interpretations. Nonetheless cartographic evidence for barrows on the edge of the site and SMR records for tesserae being found within it, suggest that additional remains from these periods should be expected. The absence of recent confirmation of Roman remains at locations close to the site may result from inadequate methodology, particularly with regards to projects occurring pre-PPG16 (DOE 1990), or from the small scale and restricted spatial spread of the Roman activities, or the mis-reporting of locational information.
The record of tesserae implies the presence of a major Roman building in the vicinity. The possibility that a prehistoric or Early Saxon burial ground extends into the site, however putative, is highly significant as it implies the possibility of important remains including burials.
As a result of the current research a scheme of fieldwork involving geophysical survey, fieldwalking and evaluation trenching is recommended. Given the current unknown location, condition and potential significance of any surviving archaeological features and deposits, which may include human remains, the Local Planning Authority is likely to expect this work to be undertaken pre-determination.
Item Type:
Client Report
Uncontrolled Keywords:
Martlesham, martlesham, Suffolk, suffolk, SMR, smr, World War II, world war ii, wwii, WWII, ww2, WW2, Second World War, pill box, pill-box, Pill-box, barrow, Barrow, Barrows, barrows, roman, Roman, romans, Romans, Early Saxon Burial Ground, Early Saxon burial ground, early saxon burial ground, mill, Mill, Mill Farmhouse, mill farmhouse, report 817, 817, Report 817, Early Medieval, early medieval, DBA, dba, Desk-based Assessment, desk-based assessment
Subjects:
Geographical Areas > English Counties > Suffolk
Period > UK Periods > Early Medieval 410 - 1066 AD
Period > UK Periods > Modern 1901 - present
Period > UK Periods > Post Medieval 1540 - 1901 AD
Period > UK Periods > Roman 43 - 410 AD
Depositing User:

Archives

Date Deposited:
10 Dec 2019 09:53
Last Modified:
10 Dec 2019 09:53
URI:
http://eprints.oxfordarchaeology.com/id/eprint/5403
Actions (login required)