Clarke, Rachel (2007) Prehistoric and Romano-British Activity in the Granta Valley: Excavations at Linton Village College, Linton, Cambridgeshire 2004-5. [Client Report] (Unpublished)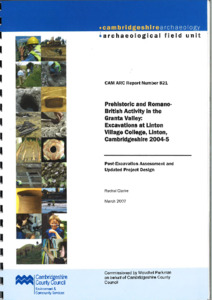 Preview
PDF




CAMARC_report821.pdf


Available under License Creative Commons Attribution Share Alike.
Download (8MB) | Preview
Abstract
During 2004 and 2005, a programme of archaeological evaluation, survey, excavation and monitoring works was undertaken by CAM ARC (formerly Cambridgeshire County Council Archaeological Field Unit (CCC AFU)) at the site of Linton Village College, Cambridgeshire. The site, which was excavated in advance of the construction of a new Special School and sports facilities, is situated in an agriculturally-rich location on the lower valley slopes of the River Granta, at the outer limits of the village.
Five phases of archaeological activity and/or occupation have been identified, spanning the Neolithic to post-medieval periods, with important discoveries relating to the prehistoric use of the site.
A number of pits were identified which contained substantial flint working assemblages in association with Grooved ware pottery. These are a significant discovery and may represent seasonal occupation of the valley during the late Neolithic period, probably to exploit the good source of natural flint. By the Early Bronze Age the site became a focus for monumental or ceremonial activities, indicated by the presence of a ring-ditch; a crouched burial of a middle-aged female was also uncovered at some distance from the ring-ditch. The date of the burial is not known, and will need to be established by radiocarbon dating. A buried soil of varying thickness was encountered across the excavation; this may have originated in the Neolithic but contained finds of varying date.
Part of a small Middle Iron Age settlement, represented by numerous post-holes and several large pits, was identified close to the northern edge of the site. These features produced important evidence of specialist activities, including metalworking (both iron smithing and possibly copper working) and craft-working; a ritual aspect was also suggested by the discovery of 'placed' deposits of antler and pottery in some of the pits. Assessment of the faunal and cereal remains indicates that mixed farming was also practiced.
By the late Iron Age/Early Roman period, settlement appears to have shifted off site; a ditched and metalled trackway was created that cut a swathe through the earlier settlement. The Roman period is largely represented by an extensive field system, which may have perpetuated an Iron Age precursor and includes a number of fields/stock enclosures and paddocks. Pottery spanning the Roman and Early Saxon periods was recovered from the ditches. Fragments of Roman tegula and box flue tile found in the ditches and associated features indicate the presence of a Roman building in the vicinity.
The site appears to have reverted to open pasture in the post-Roman period. However, in the 17th century this location may have been the site of a Civil War skirmish as a number of military items of this date were found in the topsoil.
Item Type:
Client Report
Uncontrolled Keywords:
Linton, linton, Cambridgeshire, cambridgeshire, River, river, granta, Granta, Neolithic, neolithic, post-medieval, Post-medieval, post medieval, Post Medieval, pit, Pit, pits, Pits, flint-working, Flint-working, flint, Flint, lithic, lithics, lithic implement, worked flint, Grooved ware pottery, Grooved Ware pottery, Grooved Ware Pottery, grooved ware pottery, Neolithic pottery, neolithic pottery, Early Bronze Age, early bronze age, bronze age, Bronze Age, Bronze age, Bronze age burial, Bronze Age Burial, burial, Burial, inhumation, crouch burial, HSR, hsr, Human Remains, human remains, bone, bones, Middle Iron Age, iron age, Iron Age, Late Iron Age, late iron age, Iron age pottery, Iron Age Pottery, Roman, Roman Period, Early Roman Period, roman, roman period, Roman period, Roman pottery, Pottery, pottery, pot, ceramic, sherd, civil-war, Civil-War, Civil War, civil war, post hole, postholes, Post Holes, Postholes, farming, Farming, agriculture, Metalworking, metalworking, craftworking, Craftworking, report 821, Report 821, 821, field system, Roman field system, roman field system, trackway, metalled trackway, metalled surface, paddock, paddocks, enclosures, animal enclosure, early medieval, Early Medieval, early medieval pottery, Early Medieval pottery, CBM, cbm, ceramic building material, Ceramic Building Material, roman tile, Roman tile, tile, box flue, tegula
Subjects:
Geographical Areas > English Counties > Cambridgeshire
Period > UK Periods > Bronze Age 2500 - 700 BC > Early Bronze Age 2500 - 1500 BC
Period > UK Periods > Early Medieval 410 - 1066 AD
Period > UK Periods > Iron Age 800 BC - 43 AD > Late Iron Age 100 BC - 43 AD
Period > UK Periods > Iron Age 800 BC - 43 AD > Middle Iron Age 400 - 100 BC
Period > UK Periods > Neolithic 4000 - 2200 BC
Period > UK Periods > Post Medieval 1540 - 1901 AD
Period > UK Periods > Roman 43 - 410 AD
Depositing User:

Archives

Date Deposited:
10 Dec 2019 09:32
Last Modified:
10 Dec 2019 09:32
URI:
http://eprints.oxfordarchaeology.com/id/eprint/5406
Actions (login required)