Mortimer, Richard (2006) Medieval Rural Settlement at Thorn Street, Cloverfield Drive, Soham, 2004: Post-Excavation Assessment. [Client Report] (Unpublished)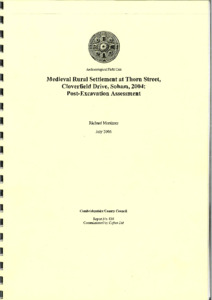 Preview
PDF




CCCAFU_report830.pdf


Available under License Creative Commons Attribution Share Alike.
Download (8MB) | Preview
Abstract
Part of a small hamlet spanning the medieval to post-medieval periods was excavated at Thorn Street, between Cloverfield Drive and Mereside, Soham. The area lay under pasture until it was settled in the medieval expansion of the 12th century and large field-wells of the Bronze Age, Romano-British and possibly Anglo-Saxon periods were found.
In the second half of the 12th century, house plots were set out around the junction of Thorn Street – the road from Soham – and Thorn Street Lane, an off-shoot leading to Soham Mere. Ditches, quarry pits, wells and some building remains survive from this early period.
Deep wells and pits within the house plots, dating from the 15th and 16th centuries, contained large and fresh pottery assemblages, alongside well-preserved wooden objects and leather shoes. At least one of the large pits may have been used for retting hemp.
Three houses are shown on the site on the 1656 'Palmer Map', two to the south of Thorn Street Lane and one to the north. Two fireplaces belonging to the largest of these buildings, immediately south of and encroaching upon the road, have survived. Behind this building was the largest of two medieval chalk-lined wells.
By the 19th century (at the time of both the Old Series and the First Edition OS maps), two sets of buildings remained – the large house on the south side of Thorn Street Lane having been demolished. A brick-lined well contained a large assemblage of late 19th and early 20th century kitchen ware, including beer and lemonade bottles, perfume bottles and an oil lamp.
Among the more intriguing objects recovered are a number of moulded terracotta bricks dating to the early 16th century. Though re-used at Thorn Street, they would originally have belonged to a very high status building.
Item Type:
Client Report
Uncontrolled Keywords:
Soham, soham, ditches, Ditches, ditch, Quarry, quarry, pits, Pits, pit, well, wells, Wells, cambridgeshire, Cambridgeshire, 12th century, 12th Century, Bronze Age, bronze age, Romano-British, romano-british, Roman, roman, early medieval, Early Medieval, anglo-saxon, Anglo-Saxon, Medieval, medieval, Post-Medieval, Post Medieval, post-medieval, Post-Medieval, fireplace, Fireplace, pottery, Pottery, assemblage, assemblages, Assemblage, assemblages, bottle, bottles, Bottles, perfume, Perfume, oil lamp, Oil lamp, Oil Lamp, thorn street, Thorn Street, report 830, 830, Report 830, CCCAFU report 830, CBM, cbm, Ceramic Building Material, ceramic building material, brick, bricks, terracotta, moulded brick, moulded bricks, structure, building, retting pit, chalk-lined well
Subjects:
Geographical Areas > English Counties > Cambridgeshire
Period > UK Periods > Bronze Age 2500 - 700 BC
Period > UK Periods > Early Medieval 410 - 1066 AD
Period > UK Periods > Medieval 1066 - 1540 AD
Period > UK Periods > Modern 1901 - present
Period > UK Periods > Post Medieval 1540 - 1901 AD
Depositing User:

Archives

Date Deposited:
09 Dec 2019 09:19
Last Modified:
09 Dec 2019 09:19
URI:
http://eprints.oxfordarchaeology.com/id/eprint/5410
Actions (login required)