Clarke, Rachel (2005) A Roman Ditch and other features at Kings Hedges School, Cambridge: Evaluation Report. [Client Report] (Unpublished)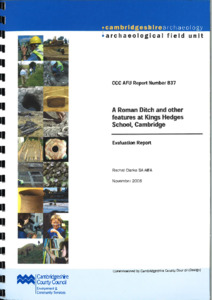 Preview
PDF




CCCAFU_report837.pdf


Available under License Creative Commons Attribution Share Alike.
Download (1MB) | Preview
Abstract
A single, L-shaped trench was excavated to the immediate north of the current Kings Hedges school in advance of the construction of a Sure Start centre. An undated but probably prehistoric ditch, a Roman pit and a Roman ditch were identified at a depth of c. 0.6m below the current ground surface. He features were relatively shallow/truncated and were overlain by a medieval or post-medieval ploughsoil.
A small quantity of finds was recovered, mostly deriving from the fill of the Roman ditch, comprising abraded pottery, animal bone, tile and shell. No metal finds were present.
The Roman ditch is likely to be associated with the extensive Roman villa and related features excavated on the site in the 1960s. The villa was re-investigated in 1994 before construction of the current school, when the eastern end of the main villa building, a gravelled surface and numerous ditches were recorded.
The evaluation has demonstrated the survival of archaeological deposits within the proposed development area, which appear not to have been unduly affected by the construction of the school in the 1990s.
Item Type:
Client Report
Uncontrolled Keywords:
Roman, roman, pit, Pit, ditch, Ditch, pottery, Pottery, animal bone, Animal bone, Animal Bone, bone, bones, CBM, cbm, tile, Tile, Shell, shell, Cambridge, cambridge, cambridgeshire, Cambridgeshire, Report 837, 837, report 837, CCCAFU report 837, Roman pottery, roman pottery
Subjects:
Geographical Areas > English Counties > Cambridgeshire
Period > UK Periods > Roman 43 - 410 AD
Depositing User:

Archives

Date Deposited:
09 Dec 2019 08:19
Last Modified:
09 Dec 2019 08:19
URI:
http://eprints.oxfordarchaeology.com/id/eprint/5414
Actions (login required)