Atkins, Robert (2005) St Andrew's Church, Wimpole, Cambridgeshire: An Archaeological Watching Brief. [Client Report] (Unpublished)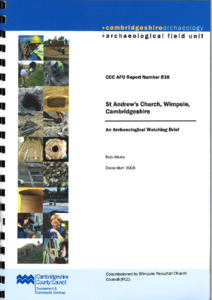 Preview
PDF




CCCAFU_report838.pdf


Available under License Creative Commons Attribution Share Alike.
Download (1MB) | Preview
Abstract
On the 27th October and 8th November 2005 Cambridgeshire County Council Archaeological Field Unit (CCC AFU) conducted an archaeological watching brief at St Andrew's Church, Wimpole Hall (TL 33650 50998) during installation of gas and water services.
Work within the church involved monitoring a 0.70m2 trench. A substantial rubble layer more than 1m thick, associated with the demolition rubble from the former medieval church and the creation of the new church in 1749 was found in this trench. Medieval church masonry, including a door jam dated between 1275 and 1350 and late medieval floor tiles, were recovered from this layer as well as some 18th-century artefacts.
Outside the north wall of the church was a possible medieval layer(s) which was cut by the construction trench for the 1789 rebuilding episode. Within this trench there were two medieval and two late medieval floor tiles as well as brick rubble from the rebuilding phase. In the remainder of the churchyard was a post-medieval burial layer which contained a few small fragments of disarticulated human remains.
Item Type:
Client Report
Uncontrolled Keywords:
Wimpole, wimpole, cambridgeshire, Cambridgeshire, Church, church, medieval, Medieval, masonry, Masonry, door jam, Door jam, Door Jam, floor tiles, Floor Tiles, floor tile, tile, 18th century, 18th Century, post-medieval, Post-medieval, post medieval Post Medieval, burial, Burial, HSR, hsr, disarticulated human remains, structure
Subjects:
Geographical Areas > English Counties > Cambridgeshire
Period > UK Periods > Medieval 1066 - 1540 AD
Period > UK Periods > Post Medieval 1540 - 1901 AD
Depositing User:

Archives

Date Deposited:
02 Dec 2019 13:59
Last Modified:
02 Dec 2019 13:59
URI:
http://eprints.oxfordarchaeology.com/id/eprint/5415
Actions (login required)