Lyons, Thomas (2005) Roman Ditches at Norton Low Wood, Norton Disney, Lincolnshire: An Archaeological Evaluation. [Client Report] (Unpublished)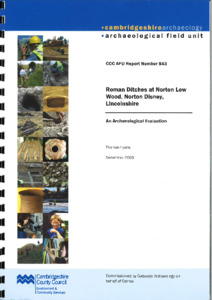 Preview
PDF




CCCAFU_report843.pdf


Available under License Creative Commons Attribution Share Alike.
Download (1MB) | Preview
Abstract
Between the 14th and 18th November 2005, Cambridgeshire County Council Archaeological Field Unit (CCC AFU) conducted an archaeological evaluation at Norton Low Wood quarry, Norton Disney, Lincolnshire (SK 8880 6040). The work was commissioned by Cotswold Archaeology on behalf of Cemex with Cotswold Archaeology acting as the consultants.
Eighteen trenches were excavated (a total of 1856cm, c.2% of the total site) using a 360-degree mechanical excavator with a 2.2m wide ditching bucket. In the south-eastern corner of the site, the evaluation identified two ditches possibly forming part of a short-lived Roman settlement dating from the later 1st century AD to early 2nd century. The ditches were a continuation of enclosure ditches encountered immediately to the east of the site during an excavation in 2003 (McDaid et al 2004). One ditch was butt ended, mirroring a ditch recorded in the 2003 excavation and probably representing a c.3m wide entranceway into the northern part of the enclosure. An interesting collection of pottery was recovered from the end of the ditch, consisting of fragments of fourteen vessels, many of which were conjoining sherds representing a single deposit of domestic pottery.
Within the remainder of the site post-medieval field boundaries were represented by a few scattered ditches. Most of the ditches were dated through map evidence as well as by 18th- or 19th-century pottery.
Item Type:
Client Report
Uncontrolled Keywords:
Lincolnshire, lincolnshire, Norton Disney, Norton disney, norton disney, Norton Low Wood, norton low wood, Norton low wood, report 843, Report 843, 843, CCCAFU report 843, Roman, roman, Roman settlement, roman settlement, pottery, Pottery, ditch, Ditch, vessels, Vessels, post-medieval, Post-medieval, Post-Medieval, Roman pottery, roman pottery, vessel, settlement, evaluation, Evaluation, field boundary, field boundaries, post medieval, Post Medieval, field system
Subjects:
Geographical Areas > English Counties > Lincolnshire
Period > UK Periods > Post Medieval 1540 - 1901 AD
Period > UK Periods > Roman 43 - 410 AD
Depositing User:

Archives

Date Deposited:
02 Dec 2019 12:44
Last Modified:
02 Dec 2019 12:44
URI:
http://eprints.oxfordarchaeology.com/id/eprint/5419
Actions (login required)