Hounsell, Daniel (2006) Bittering Quarry Extension, Longham: An Archaeological Evaluation. [Client Report] (Unpublished)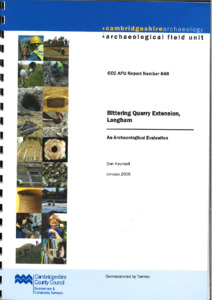 Preview
PDF




CCCAFU_report848.pdf


Available under License Creative Commons Attribution Share Alike.
Download (5MB) | Preview
Abstract
Between 21st November and 9th December 2005 an archaeological evaluation was carried out by Cambridgeshire County Council Archaeological Field Unit (CCC AFU) on 45ha of land adjacent to Bittering Quarry, Longham (TF 93720 16705). This was undertaken to determine the archaeological potential of the area prior to an application to extend mineral extraction (gravel) onto the land by Tarmac.
This evaluation demonstrated that, while much of the potential development area was archaeologically blank, there were also some significant archaeological remains present.
These remains were primarily clustered in three zones. On the southern edge of the potential development area were four pits and a ditch which demonstrated the presence of substantial and significant prehistoric, possibly industrial, use/occupation. There was also evidence to indicate that this area may have seen some limited use in the Roman period, reflecting the pattern of known archaeological remains for the wider area.
In addition, there was substantial, but as yet un-datable, use of the site further to the east and north. This included a number of ditches which probably demonstrate the presence of some form of substantial enclosure complex on the eastern edge of the site. Toward the southern edge of the site a number of discrete pits may be associated with the ring ditch (of possible Bronze Age date) and further ditch features known from aerial photographic surveys of the adjacent field.
Item Type:
Client Report
Uncontrolled Keywords:
report 848, 848, Report 848, CCCAFU report 848, Longham, longham, norfolk, Norfolk, roman, Roman, prehistoric, Prehistoric, Ditches, ditches, Pits, pits, pit, enclosure, Enclosure, Enclosure complex, Enclosure Complex, enclosure complex, ring ditch, Ring ditch, Ring Ditch, ditch, ditches, ditched enclosure, land use, evaluation, evaluation, archaeological evaluation
Subjects:
Geographical Areas > English Counties > Norfolk
Period > UK Periods > Roman 43 - 410 AD
Depositing User:

Archives

Date Deposited:
26 Nov 2019 15:49
Last Modified:
26 Nov 2019 15:49
URI:
http://eprints.oxfordarchaeology.com/id/eprint/5425
Actions (login required)