Atkins, Robert (2006) A Middle Iron Age to Early Romano-British settlement at Vicarage Farm Road, Peterborough: An Archaeological Evaluation. [Client Report] (Unpublished)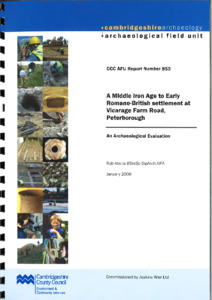 Preview
PDF




CCCAFU_report853.pdf


Available under License Creative Commons Attribution Share Alike.
Download (2MB) | Preview
Abstract
Between the 19th and 23rd December 2005 the Cambridgeshire County Council Archaeological Field Unit (CCC AFU) conducted an archaeological evaluation at Vicarage Farm Road, Peterborough (TL 2096 9940) in advance of the construction of an industrial unit and related car parking area. The work was commissioned by Jeakins Wier Ltd.
Five trenches (total length 133.7m) were mechanically excavated in the development area. The evaluation uncovered moderate to dense archaeological remains over the southern c.80% of the site with no archaeological features surviving in the northern area due to modern truncation. The remains consisted of at least four phases of settlement from around the 4th or 3rd century BC until the 2nd century AD. The remains of several structures were found, at least one of which was within a ring gully. Other post holes may have been associated with angular ditches or slots.
Other features included enclosure ditches and a parallel linear north-west to south-east ditch traced from Pryor's 1972 excavation Area I, as well as various pits. There was a moderate collection of pottery and animal bone together with secondary evidence for copper alloy working in the vicinity. Environmental remains did not survive well but a few poorly surviving charred cereal grains were recovered from Early Romano-British features.
Item Type:
Client Report
Uncontrolled Keywords:
peterborough, Peterborough, Cambridgeshire, cambridgeshire, report 853, Report 853, 853, CCCAFU repor 853, ditch, Ditch, enclosure, Enclosure, Romano-British, romano-british, Romano-British, Roman, roman, iron age, Iron age, Iron Age, Roman pottery, roman pottery, iron age pottery, Iron age pottery, Iron Age pottery, pottery, Pottery, pot, ceramic, sherd, animal bone, animal bones, bone, bones, animal remains, structure, ring gully, gully, posthole, post hole
Subjects:
Geographical Areas > English Counties > Cambridgeshire
Period > UK Periods > Iron Age 800 BC - 43 AD > Late Iron Age 100 BC - 43 AD
Period > UK Periods > Iron Age 800 BC - 43 AD > Middle Iron Age 400 - 100 BC
Period > UK Periods > Roman 43 - 410 AD
Depositing User:

Archives

Date Deposited:
19 Nov 2019 10:19
Last Modified:
19 Nov 2019 10:19
URI:
http://eprints.oxfordarchaeology.com/id/eprint/5429
Actions (login required)