Atkins, Robert (2007) Late Post-Medieval Burials at All Saints Church, Landbeach, Cambridgeshire: An Archaeological Evaluation and watching brief. [Client Report] (Unpublished)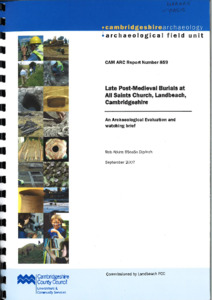 Preview
PDF




CAMARC_report859.pdf


Available under License Creative Commons Attribution Share Alike.
Download (1MB) | Preview
Abstract
In 2006 CAM ARC, Cambridgeshire County Council (formerly Archaeological Field Unit) undertook an archaeological evaluation and watching brief at All Saints Church, Landbeach (TL 4765 6535) in advance of the construction of a north porch to the church and associated works. The work was commissioned by Landbeach PCC.
The area of the new porch was lowered by 0:3m and one trench (total length 4m) was partially excavated along the proposed eastern footings for the new porch. The evaluation found no articulated burials in the 0.3m strip but within the trench three rows of burial plots were encountered with dense stratified burials encountered in all the rows. Twelve articulated burials were excavated. These burials were encountered between 0.55m and 1.2m below the present ground level (further burials may exist below this level as the natural subsoil was not encountered). Only the extreme southern burial row was lowered to the full depth of the proposed footings. Here, six articulated burials were encountered as well as at least one disarticulated burial recovered from throughout the layer. This burial row was cut by the foundations of the modern buttress on the northern wall of the church.
The contractors decided to change the proposed plans for the development and pile the new porch. Four c.1.3m2 square holes were dug at the corners of the proposed structure but only grave earth could be seen within them. Work within the church itself comprise temporary removing c. half the pews to install pipes. The depth of this work was c.03m – 0.4m below the present floor level but no archaeological remains were disturbed. The only stone remains consisted on the stonewall footings of the northern wall of the church and an east to west wall of unknown date running parallel to the northern wall along roughly the centre of the northern transept. Victorian brick walls were also seen around some of the medieval column bases and giving support to some of the former pews.
Item Type:
Client Report
Uncontrolled Keywords:
Landbeach, landbeach, Cambridgeshire, cambridgeshire, evaluation, Evaluation, burials, Burials, burial, Burial, articulated burial, Articulated Burial, church, report 859, 859, Report 859, CAMARC report 859, Church, wall, Wall, Victorian, victorian, Post-Medieval, post-medieval, Post Medieval, post medieval, HSR, hsr, human remains, Human Remains, bone, bones, brick, column, column base, pew
Subjects:
Geographical Areas > English Counties > Cambridgeshire
Period > UK Periods > Post Medieval 1540 - 1901 AD
Depositing User:

Archives

Date Deposited:
19 Nov 2019 09:55
Last Modified:
19 Nov 2019 09:55
URI:
http://eprints.oxfordarchaeology.com/id/eprint/5431
Actions (login required)