Jones, Mo (2006) Bronze Age, Iron Age and Romano-British Archaeology on the March to Chatteris Anglian Water Pipeline, Cambridgeshire: An Archaeological Excavation. [Client Report] (Unpublished)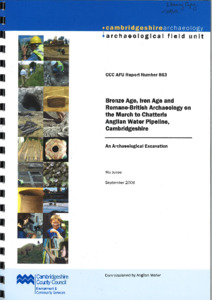 Preview
PDF




CCCAFU_report863.pdf


Available under License Creative Commons Attribution Share Alike.
Download (6MB) | Preview
Abstract
Cambridgeshire County Council Archaeological Field Unit (CCC AFU) undertook an archaeological investigation along the route of the March-Chatteris Main Pipeline. The work was commissioned by Anglian Water and took place from November 2005 to January 2006. All work was carried out in accordance with briefs issued by the Cambridgeshire Archaeology, Planning and Countryside Advice team (CAPCA, Thomas 2005) and supplemented by specifications prepared by CCC AFU (Macaulay 2005).
The pipeline route stretched for 6km from Chatteris to Wimblington, predominantly following the route of the A141 Isle of Ely Way and was 15m wide. Eighteen trenches were located in the northern 4km of the route to coincide with the non-fen deposits. They were numbered sequentially from north (1) to south (18). The evaluation determined the presence of sparse archaeological remains along the pipeline route, with an area of increased activity in Trench 13 and funeral pyre activity in Trench 17. The remains were dated from the Neolithic/Bronze Age to the Romano-British period, and also the late or post-medieval period. The main phase of occupation appears to have occurred from the 3rd century AD and was centred around Trench 13.
Archaeological remains were characterised by enclosures and other boundary ditches in a landscape used primarily for the keeping of livestock, particularly throughout the Iron Age and Romano-British period. Artefacts recovered, including loomweight fragments and quernstones, suggest that domestic activities such as weaving and grinding/milling were taking pace in the vicinity, although there is no direct evidence for domestic occupation itself.
Item Type:
Client Report
Uncontrolled Keywords:
cambridgeshire, Cambridgeshire, Neolithic, neolithic, Bronze Age, Bronze age, bronze age, bronze, Bronze, roman, Roman, Romano-british, Romano-British, romano-british, medieval, Medieval, Post-medieval, post-medieval, Iron age, Iron Age, iron age, Iron, iron, enclosure, Enclosure, ditch, Ditch, boundary, Boundary, report 863, 863, CCCAFU report 863, Report 863, agriculture, Agriculture, domestic, Domestic, quernstone, Quernstone, quern, Quern, boundary ditch, loomweight, loom weight, milling
Subjects:
Geographical Areas > English Counties > Cambridgeshire
Period > UK Periods > Bronze Age 2500 - 700 BC
Period > UK Periods > Early Medieval 410 - 1066 AD
Period > UK Periods > Iron Age 800 BC - 43 AD
Period > UK Periods > Medieval 1066 - 1540 AD
Period > UK Periods > Post Medieval 1540 - 1901 AD
Period > UK Periods > Roman 43 - 410 AD
Depositing User:

Archives

Date Deposited:
19 Nov 2019 09:41
Last Modified:
19 Nov 2019 09:41
URI:
http://eprints.oxfordarchaeology.com/id/eprint/5433
Actions (login required)