Thatcher, Chris (2006) Roman Enclosures at Nos 6 & 8 Earith Road, Willingham, Cambridgeshire: An Archaeological Evaluation. [Client Report] (Unpublished)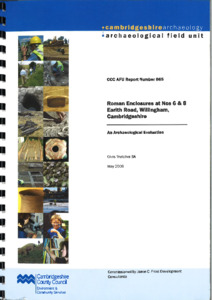 Preview
PDF




CCCAFU_report865.pdf


Available under License Creative Commons Attribution Share Alike.
Download (1MB) | Preview
Abstract
An archaeological evaluation was conducted by Cambridgeshire County Council Archaeological Field Unit (CCC AFU) between 14th and 17th March 2006 at Nos 6 and 8 Earith Road, Willingham (TL 4043 7071) prior to the demolition of the existing properties and out buildings and construction of six new dwellings with associated access and services. The work was commissioned y Jason C. Frost Development Consultants.
CCC AFU were commissioned to mechanically excavate three trenches (total area 100m2) in the development area. The evaluation uncovered a moderate sized enclosure ditch on a north to south alignment in Trench 1. In Trench 2 a smaller ditch was recorded on a west-southwest to east-southeast alignment that formed part of another enclosure. Two further ditches and a number of modern intrusions were recorded in Trench 3.
A fourth trench (total area 14m2) was opened within the development area at the request of Cambridgeshire Archaeology Planning and Countryside Advisor Kasia Gdaniec in order to determine the route across the site of the ditch recorded in Trench 1. This feature was recorded in Trench 4 on the same alignment as picked up in Trench 1. The ditch also truncated a less extensive linear feature that formed part of an earlier enclosure.
The finds recovered from these features were mainly Roman in origin. The pottery assemblage consisted of jars, cooking pots and a dish and was typical of low status kitchen and storage assemblages associated with Roman period farmsteads of 2nd-4th century AD. An assemblage of horse bone, along with heavily fragmented cattle remains, was retrieved that was indicative of butchery, or possibly tannery waste.
Item Type:
Client Report
Uncontrolled Keywords:
enclosure, Enclosure, ditch, Ditch, willingham, Willingham, Cambridgeshire, cambridgeshire, report 865, 865, Report 865, OAE report 865, roman, Roman, pottery, Pottery, horse, Horse, Cattle, cattle, butchery, Butchery, tannery, Tannery, tanning, Tanning, Tanning Waste, tanning waste, animal bone, animal bones, animal remains, Roman pottery, roman pottery, Evaluation, evaluation
Subjects:
Geographical Areas > English Counties > Cambridgeshire
Period > UK Periods > Roman 43 - 410 AD
Depositing User:

Archives

Date Deposited:
04 Nov 2019 11:52
Last Modified:
04 Nov 2019 11:52
URI:
http://eprints.oxfordarchaeology.com/id/eprint/5434
Actions (login required)