Clarke, Rachel (2006) Prehistoric, Medieval and Post-Medieval Remains at Merton Park, to the rear of No. 30 High Street, Waterbeach, Cambridgeshire: Evaluation Report. [Client Report] (Unpublished)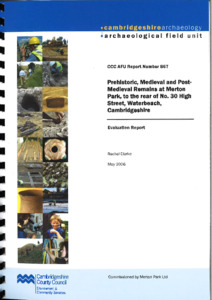 Preview
PDF




CCCAFU_report867.pdf


Available under License Creative Commons Attribution Share Alike.
Download (1MB) | Preview
Abstract
Between the 4th and 5th April 2006, the Cambridgeshire County Council Archaeological Field Unit (CCC AFU) conducted an archaeological evaluation to the rear of No. 30 High Street, Waterbeach (TL 4966 6582). A single 11m-long trench was excavated in order to evaluate a small plot of land in advance of the propose construction of two residential dwellings. The work was commissioned by Merton Park Ltd.
A buried soil/layer of probable prehistoric date was the earliest deposit encountered; this produced a small quantity of calcined bone, three conjoining sherds of Bronze Age or Early Iron Age pottery and a few charred seeds. Medieval activity was represented by a pit of 12th-14th century date; the remaining features and deposits comprise 16th-20th century pits and layers located across the trench. The interpretation of these features is not clear, although a 19th century pit identified at the western end of the trench may have been a cesspit or well. A sample from one of the earlier post-medieval pits was largely composed of humic matter, including leaves, twigs and roots, indicative of pit composting.
The medieval and post-medieval finds assemblage was generally quite small and comprises animal bone, pottery, glass, tile and brick. Environmental samples indicate good potential for preservation of organic remains by waterlogging and possibly charring.
Relatively few archaeological investigations have been undertaken within Waterbeach, and these results, although fairly typical of medieval and post-medieval backyard features and garden soils, are therefore of some importance for informing predictive models for the immediate area.
Item Type:
Client Report
Uncontrolled Keywords:
Evaluation, evaluation, waterbeach, Waterbeach, cambridgeshire, Cambridgeshire, pottery, Pottery, Bronze Age, bronze age, iron age, Iron Age, iron, Iron, medieval, Medieval, post-medieval, Post-Medieval, Post-medieval, post medieval, Post Medieval, glass, Glass, tile, Tile, CBM, cbm, ceramic building material, Ceramic Building Material, animal bone, Animal bone, report 867, 867, Report 867, CCCAFU report 867, Bronze Age pottery, bronze age pottery, iron age pottery, Iron Age pottery, medieval pottery, Medieval pottery, post-medieval pottery, Post-Medieval pottery, Post-medieval pottery, post medieval pottery, Post Medieval pottery, buried soil, layer, pit, pits, garden soil, well, cesspit, cess pit, cess-pit, charred plant remains, CPR, cpr, Charred Plant Remains
Subjects:
Geographical Areas > English Counties > Cambridgeshire
Period > UK Periods > Bronze Age 2500 - 700 BC
Period > UK Periods > Iron Age 800 BC - 43 AD > Early Iron Age 800 - 400 BC
Period > UK Periods > Medieval 1066 - 1540 AD
Period > UK Periods > Post Medieval 1540 - 1901 AD
Depositing User:

Archives

Date Deposited:
01 Nov 2019 10:33
Last Modified:
01 Nov 2019 10:36
URI:
http://eprints.oxfordarchaeology.com/id/eprint/5435
Actions (login required)