Jones, Mo and Mortimer, Richard (2006) Early and Middle Saxon Remains at Queens Way, Oakington, Cambridgeshire: An Archaeological Evaluation. [Client Report] (Unpublished)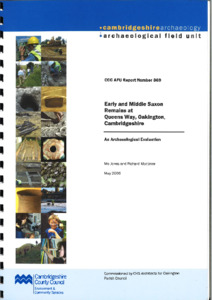 Preview
PDF




CCCAFU_report869.pdf


Available under License Creative Commons Attribution Share Alike.
Download (3MB) | Preview
Abstract
An archaeological evaluation was undertaken by Cambridgeshire County Council Archaeological Field Unit (CCC AFU) from 21st March to 24th March 2006, in accordance with a Brief issued by Cambridgeshire Archaeology, Planning and Countryside Advice Team (CAPCA Gdaneic 2006), supplemented by a Specification prepared by CCC AFU (Macaulay 2006).
The development area was located immediately south-east of the recreation area which underwent archaeological investigation by CCC AFU in 1994. The proposed development includes the demolition of an existing building on the west side of the playing field and its replacement with a new sports pavilion and multi-use games area in the eastern corner of the recreation ground (Macaulay 2006).
The evaluation sought to establish the character, date, state of preservation and extent of any archaeological remains within the propose development area.
Four trenches were excavated in an area of known archaeological remains. Archaeological features were identified in each trench, consisting of ditches, postholes, buried soil and burials. Pottery was recovered from the majority of features excavated, though in small quantities, and indicated that the archaeological activity was mainly Middle Saxon with some potentially Roman/Early Saxon (ditches) and 12th century activity (upper fills and buried soil layers). A series of north-east to south-west boundary ditches to the east. One important element of the archaeology of the site is the survival of an unploughed buried soil or land surface that covers the whole site area and lies just below turf level. The pottery assemblage from the buried soil is principally Middle Saxon. Although a relatively small pottery assemblage was recovered from the site, it contained a high proportion of Ipswich wares in good condition, and suggests that a Middle Saxon settlement may be located nearby. The location of this settlement has, however, not yet been identified.
In accordance with the Brief, the human remains encountered were identified but not excavated. These remains are almost certainly part of the 6th century Anglo-Saxon cemetery which is known to be present on the site, part of which was excavated in 1994, immediately adjacent to the evaluation area (Macaulay 1994).
Item Type:
Client Report
Uncontrolled Keywords:
Oakington, oakington, Report 869, 869, report 869, CCCAFU report 869, ditch, Ditch, posthole, Posthole, post hole, Post hole, burial, Burial, Pottery, pottery, Cambridgeshire, cambridgeshire, Middle Saxon, middle saxon, Roman, roman, Early saxon, Early Saxon, early saxon, Saxon, saxon, Anglo-Saxon, anglo-saxon, Early medieval, early medieval, buried soil, layer, medieval, Medieval, Early medieval pottery, early medieval pottery, cemetery, burial ground, HSR, hsr, human remains, Human Remains, boundary, boundary ditch, boundary ditches
Subjects:
Geographical Areas > English Counties > Cambridgeshire
Period > UK Periods > Early Medieval 410 - 1066 AD
Period > UK Periods > Medieval 1066 - 1540 AD
Period > UK Periods > Roman 43 - 410 AD
Depositing User:

Archives

Date Deposited:
30 Oct 2019 07:41
Last Modified:
30 Oct 2019 07:41
URI:
http://eprints.oxfordarchaeology.com/id/eprint/5436
Actions (login required)