Thatcher, Chris (2006) Land off New Road, Chatteris, Cambridgeshire: An Archaeological Evaluation. [Client Report] (Unpublished)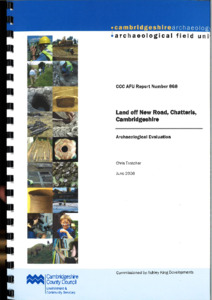 Preview
PDF




CCCAFU_report868.pdf


Available under License Creative Commons Attribution Share Alike.
Download (2MB) | Preview
Abstract
An archaeological evaluation was conducted by Cambridgeshire County Council Archaeological Field Unit (CCC AFU) between 10th and 19th April 2006 at land off New Road, Chatteris (TL 3944 8625) prior to the development of the land for residential properties. The work was commissioned by Ashley King Developments Ltd.
CCC AFU were commissioned to excavate ten trenches mechanically (total area 304m2) in the development area, which consisted of three grave cuts, containing what appeared to be supine burials, a series of post holes forming part of a post-built structure, a hearth and several isolated features. The inhumations were not excavated but it was clear that two of the burials were aligned east to west with the heads at the west end of the cuts. The third grave was aligned north to south.
The post holes, (which contained pot sherds dated to the Early Iron Age) and hearth recorded in Trench 10 suggest that some form of settlement was present on the site that may have been bounded by two north-east to south-west aligned ditches recorded to the south.
The second concentration of archaeological remains was recorded in Trenches 1,2, and 3, and consisted of a series of ditches and pits whose basal fills contained ritual deposits of faunal remains, pottery and worked stone.
Two ditch terminals investigated in Trench 2 were found to contain a large faunal assemblage. The skeletal remains of at least one adult pig was recovered from each terminal and one of these was buried in conjunction with a minimum of five neo- or perinatal piglets (207). No evidence of butchery was found on these remains, which were very well preserved. This, along with their presence in the terminals, may suggest deliberate and careful deposition.
The pattern of features in these southernmost trenches bore some similarity to the Early Iron Age features recorded during the High Street excavations of 2001, the majority of which were located in the northern part of that site. A greater concentration of evidence for ritual behaviour was recorded during the evaluation than was encountered during the High Street excavations.
No finds dated to later than the Iron Age were recovered during the evaluation. This suggests a shift in habitation, especially during the Roman and Saxon period, towards the south where evidence for settlement has been recorded.
Item Type:
Client Report
Uncontrolled Keywords:
cccafu, ccc afu, CCCAFU, CCC AFU, Chatteris, chatteris, Cambridgeshire, cambridgeshire, posthole, Posthole, post hole, Post Hole, supine burial, Supine burial, Supine Burial, Burial, burial, HSR, hsr, Human Remains, human remains, hearth, Hearth, ditch, Ditch, Pit, pit, pottery, Pottery, worked stone, Worked Stone, Faunal remains, faunal remains, Faunal Remains, Faunal Assemblage, faunal assemblage, Faunal assemblage, animal remains, animal bone, animal bones, bone, bones, piglets, Piglets, piglet, Piglet, Iron, iron, Iron age, Iron Age, iron age, early iron age, Early Iron Age, report 868, 868, Report 868, CCCAFU report 868, placed deposit, placed deposition, Iron age pottery, Iron Age pottery, iron age pottery, early iron age pottery, Early Iron Age pottery
Subjects:
Geographical Areas > English Counties > Cambridgeshire
Period > UK Periods > Iron Age 800 BC - 43 AD > Early Iron Age 800 - 400 BC
Period > UK Periods > Iron Age 800 BC - 43 AD
Depositing User:

Archives

Date Deposited:
30 Oct 2019 07:34
Last Modified:
30 Oct 2019 07:47
URI:
http://eprints.oxfordarchaeology.com/id/eprint/5437
Actions (login required)