Jones, Mo (2006) Observations at Brown Spinney, Shepreth, Cambridgeshire: An Archaeological Watching Brief. [Client Report] (Unpublished)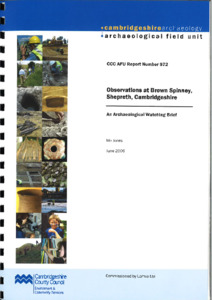 Preview
PDF




CCCAFU_report872.pdf


Available under License Creative Commons Attribution Share Alike.
Download (1MB) | Preview
Abstract
Cambridgeshire County Council Archaeological Field Unit was commissioned by Lamva Limited to undertake an Archaeological Watching Brief at Brown Spinney, Shepreth. The work took place on 2nd May 2006.
The watching brief was required in order to monitor archaeologically the replacement of part of the existing 33kv Shepreth to Sawston Overhead Power Line, in particular, the section of Overhead Line located within the boundaries of Scheduled Ancient Monument 85, identified as a possible Roman Villa site.
Three trenches were excavated by machine immediately adjacent to the post and pylons of the existing Overhead Line.
No archaeological activity was present in any trench, although thick alluvial deposits were identified in Trenches 6 and 7 (603 and 703). All deposits were examined for archaeological artefacts and features but none were observed.
Despite the lack of archaeological features, the alluvial deposits show that extensive and repeated flooding events occurred here. It is very likely that these depositions are directly related to the palaeochannel located to the east and north of the development area (Roberts 1998, fig. 1).
| | |
| --- | --- |
| Item Type: | Client Report |
| Uncontrolled Keywords: | Shepreth, shepreth, Cambridgeshire, cambridgeshire, report 872, 872, Report 872, CCCAFU report 872, flooding, Flooding, alluvial deposit, Alluvial deposit, Alluvial Deposit, palaeochannel, Palaeochannel |
| Subjects: | Geographical Areas > English Counties > Cambridgeshire |
| Depositing User: | Archives |
| Date Deposited: | 29 Oct 2019 11:53 |
| Last Modified: | 29 Oct 2019 11:53 |
| URI: | http://eprints.oxfordarchaeology.com/id/eprint/5440 |
Actions (login required)