Bailey, Glenn and Lodoen, Adam (2006) Post-medieval landscaping at Kimbolton School, Cambridgeshire: An Archaeological Evaluation. [Client Report] (Unpublished)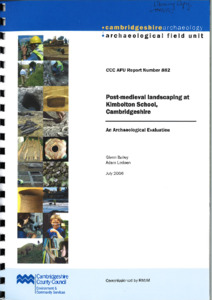 Preview
PDF




CCCAFU_report882.pdf


Available under License Creative Commons Attribution Share Alike.
Download (1MB) | Preview
Abstract
In early June 2006, Cambridgeshire County Council Archaeological Field Unit carried out an archaeological evaluation by trial trenching at Kimbolton School, Kimbolton, in advance of the construction of a new school building.
The evaluation revealed features relating to several phases of land use over discontinuous periods, possibly from the prehistoric through to modern times.
Three small ditches were exposed that were possibly prehistoric in origin but unconfirmed due to lack of artefactual evidence.
A single Roman pit containing a small amount of pottery was also found.
A very large, though unfortunately undated, ditch that was possibly part of the 13th to 14th century medieval moat system associated with the castle, was also exposed.
Most significantly, a series of layers, ditches and conduits were exposed which gave a tantalising insight into some of the extensive post-medieval landscaping and drainage systems that took place in the grounds of the, by then, manor house estate.
Further features associated with the more recent period and the modern school were recorded.
Item Type:
Client Report
Uncontrolled Keywords:
cccafu, CCCAFU, ccc afu, CCC AFU, Cambridgeshire, cambridgeshire, kimbolton, Kimbolton, report 882, 882, Report 882, CCCAFU report 882, ditch, Ditch, prehistoric, Prehistoric, Roman, roman, pit, Pit, Roman pit, roman pit, conduit, Conduit, Post-medieval, Post-Medieval, post-medieval, Medieval, medieval, moat, Moat, Pottery, pottery, pot, ceramic, sherd, Roman pottery, roman pottery, drainage, landscape, land management
Subjects:
Geographical Areas > English Counties > Cambridgeshire
Period > UK Periods > Medieval 1066 - 1540 AD
Period > UK Periods > Post Medieval 1540 - 1901 AD
Period > UK Periods > Roman 43 - 410 AD
Depositing User:

Archives

Date Deposited:
15 Oct 2019 15:35
Last Modified:
15 Oct 2019 15:35
URI:
http://eprints.oxfordarchaeology.com/id/eprint/5446
Actions (login required)