Hounsell, Daniel (2006) Enclosures at Nos 6 & 8 Earith Road, Willingham, Cambridgeshire: An Archaeological Excavation. [Client Report] (Unpublished)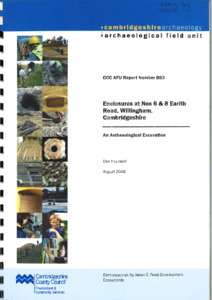 Preview
PDF




CCCAFU_report883.pdf


Available under License Creative Commons Attribution Share Alike.
Download (2MB) | Preview
Abstract
An archaeological excavation was conducted by the Cambridgeshire County Council Archaeological Field Unit (CCC AFU) between the 12th and 23rd June 2006 on land to the rear of Nos 6-8 Earith Road, Willingham (TL 4043 7071) prior to the re-development of the existing properties, the demolition of the surrounding out-buildings and the construction of a number of new dwellings with associated access and services. The work was commissioned by Jason C. Frost Development Consultants.
The excavation followed an archaeological evaluation of the proposed development site by CCC AFU in March 2006. The entire development area (c. 800m2) was mechanically excavated (under close archaeological supervision) onto the underlying natural geology in order to reveal the archaeological deposits.
This work served to reveal more of the extent of an enclosure system, defined by a series of moderately sized, linear ditch features, initially identified by the evaluation.
In addition to the various phases of linear boundary features there were also a large number of discrete pit features. One of these pits had been used to dump (as opposed to placing or burying) the partial remains of a human – chiefly a leg, mixed in with the partial remains of a pig (mainly the jaw). Unfortunately, the function of the remainder of the pit features was much less clear, although none of them appeared to have had a structural use.
The excavation demonstrated the presence of a reasonable concentration of archaeological deposits within the development area. Furthermore, this work appeared to indicate that the ancient use of the site was primarily Roman in date, and agricultural hinterland in function, the site being dominated by linear ditches appearing to define a series of enclosures. The dearth of finds from this site, as well as the natural infill nature of the features following their disuse, meant that it was unlikely that this site was particularly close to any settlement.
Fairly strong archaeological evidence indicates that the focus for the Roman settlement of Willingham was at an area just to the north of the current village centre. The evidence presented by this study site would indicate that it was on the periphery of this activity.
Item Type:
Client Report
Uncontrolled Keywords:
willingham, Willingham, Cambridgeshire, cambridgeshire, Report 883, 883, report 883, CCCAFU report 883, enclosure, Enclosure, Enclosure system, Enclosure System, enclosure system, ditch, Ditch, Linear ditch, Linear Ditch, linear ditch, enclosure ditch, pit, Pit, Human remains, human remains, Human Remains, HSR, hsr, animal remains, animal bone, animal bones, bone, bones, Pig remains, Pig Remains, pig remains, Roman, roman, agriculture, Agriculture, agricultural hinterland
Subjects:
Geographical Areas > English Counties > Cambridgeshire
Period > UK Periods > Roman 43 - 410 AD
Depositing User:

Archives

Date Deposited:
14 Oct 2019 13:55
Last Modified:
14 Oct 2019 13:55
URI:
http://eprints.oxfordarchaeology.com/id/eprint/5447
Actions (login required)