Kenney, Scott (2007) Hinxton Genome Campus Extension Excavations and Wetlands Area Assessment and Monitoring 2002-2003: Post Excavation Assessment and Updated Project Design. [Client Report] (Unpublished)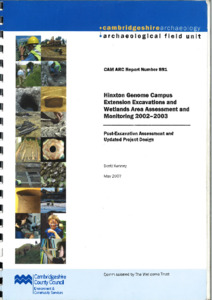 Preview
PDF




CAMARC_report891.pdf


Available under License Creative Commons Attribution Share Alike.
Download (13MB) | Preview
Abstract
This major development undertaken by CAM ARC on behalf of the Wellcome Trust south of Hinxton in Cambridgeshire has afforded an opportunity to excavate significant areas of this landscape, which lies just to the north of the Roman town of Great Chesterford and adjacent to the ancient course of the Icknield Way.
Several phases of evaluation trenching in 1993 were followed by the initial phase of excavation in 1993-4, just to the south of Hinxton Hall. That excavation revealed Saxon and medieval settlement dating from the 6th to 12th centuries, as well as evidence of prehistoric and Roman activity. Between 1996 and 2002, evaluations were carried out on land to the south of the 1993-4 excavations, in advance of further development and the creation of the Genome Campus. These evaluations produced evidence of extensive Iron Age and Roman remains, as well as further evidence of prehistoric and Anglo-Saxon activity. Excavations in 2003-3 on both sides of the River Cam confirmed the complexity of the settlement.
The project has successfully achieved the majority of the original research aims and objectives set out in the Brief and Specification.
Five periods of occupation have provisionally been identified at the Genome Campus site, spanning the prehistoric to the 19th century. Prehistoric activity indicates that this was a 'preferred' location and includes a contracted (or 'crouched') Bronze Age burial and scattered pits, as well as deposition of lithics within a series of natural channels and ponds; these remains supplement a 'ritual shaft' that had previously been found at the Hinxton Hall site.
The most intensive activity occurred during the Iron Age and Roman periods when a range of features indicative of rural settlement were present, including trackways, field boundaries, pit clusters and post holes. While no dwellings have so far been identified from these periods there were continued signs of ritual activity in the form of a large square Iron Age enclosure which may have served a ceremonial function and a possible Romano-British shrine. A small but highly significant group of burials dating to the Late Iron Age or Early Roman period may relate to a single cemetery.
In the Early Saxon period several grubenhäuser were created and presumably related to the contemporary settlement just to the north. Further west, on the opposite side of the River Cam, was an area that may be associated with woodworking or wetland management, providing rare and important evidence for this activity during the Middle to Late Saxon period. This may have been linked to a river crossing by a metalled path.
This site has produced several significant finds assemblages that are of sufficient size to enable comparative research with other assemblages both locally and regionally, in particular the Iron Age pottery and lithics. The pottery forms a regionally significant group of 'Belgic' pottery and indicates that the settlement was of unusual status. Further analysis will concentrate on aspects such as landscape utilisation, ritual, economy, trade, craft and industry.
Item Type:
Client Report
Uncontrolled Keywords:
CAM ARC, CAMARC, cam arc, camarc, Cambridgeshire, cambridgeshire, Hinxton, hinxton, Saxon, saxon, Medieval, medieval, Roman, roman, Iron Age, iron age, Iron age, Anglo-Saxon, Anglo-saxon, anglo-saxon, Early Medieval, early medieval, River Cam, river cam, River cam, river Cam, cam, Cam, river, River, Prehistoric, prehistoric, bronze age, Bronze Age, Bronze age, burial, Burial, crouched, crouched burial, HSR, hsr, Human Remains, human remains, Human Skeletal Remains, human skeletal remains, ritual shaft, pit, Pit, field boundary, Field boundary, Field Boundary, posthole, Posthole, post hole, Post Hole, ritual, Ritual, enclosure, Enclosure, Romano-Britsh, romano-british, Shrine, shrine, cemetery, Cemetery, Saxon, saxon, settlement, Settlement, Pottery, pottery, lithics, Lithics, lithic implement, Lithic Implement, Flint, Flints, flint, flints, worked flint, worked flints, Belgic, belgic, Belgic pottery, Belgic Pottery, belgic pottery, Pottery, pottery, pot, ceramic, sherd, economy, Economy, Trade, trade, Craft, craft, industry, Industry, status, Status, utilisation, Utilisation, report 891, 891, Report 891, CAMARC report 891, Hinxton Hall, hinxton hall, Wellcome Trust, wellcome trust, Genome Campus, genome campus, wetland, wet land, wetland management, SFB, sfb, sunken featured building, Sunken Featured Building, sunken-featured building, Sunken-Featured Building, grubenhäuser, grub hut, metalled surface, metalled path, path, surface, Iron Age, pottery, iron age pottery, Medieval pottery, medieval pottery, Roman pottery, roman pottery, Anglo-Saxon pottery, Anglo-saxon pottery, anglo-saxon pottery, Early Medieval pottery, early medieval pottery, Prehistoric pottery, prehistoric pottery, bronze age pottery, Bronze Age pottery, Bronze age pottery
Subjects:
Geographical Areas > English Counties > Cambridgeshire
Period > UK Periods > Bronze Age 2500 - 700 BC
Period > UK Periods > Early Medieval 410 - 1066 AD
Period > UK Periods > Iron Age 800 BC - 43 AD
Period > UK Periods > Medieval 1066 - 1540 AD
Period > UK Periods > Roman 43 - 410 AD
Depositing User:

Archives

Date Deposited:
14 Oct 2019 12:06
Last Modified:
14 Oct 2019 12:06
URI:
http://eprints.oxfordarchaeology.com/id/eprint/5451
Actions (login required)