Mortimer, Richard (2006) A possible location for the Ramsey Abbey precinct and docks: Excavations at Ailwyn Community School, Ramsey, Cambridgeshire: Excavation Report. [Client Report] (Unpublished)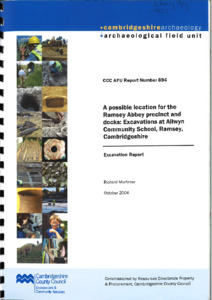 Preview
PDF




CCCAFU_report894.pdf


Available under License Creative Commons Attribution Share Alike.
Download (2MB) | Preview
Abstract
Two small excavations were carried out to the south and east of the Ramsey Ailwyn Community School over the winter of 2005/6 in advance of the construction of a new science block and new hard play area. Both areas are situated close to the 5m contour (the medieval fen edge) at the extreme southeast of the area known to have been occupied by Ramsey Abbey.
Three ditched boundaries and a few small quarry pits were recorded. None of the three boundaries are well dated but using map evidence alongside the small finds assemblage they can potentially be assigned to the medieval (or late medieval), post-medieval and modern periods. The two later ditches appear to be direct, or near direct, replacements for the one that went before.
Trying the earliest medieval or late medieval version of this boundary (a wide, curving ditch) into the available aerial photographic and map evidence the Abbey Precinct has been extrapolated for most of its course. The precinct appears to ovate, measuring some 800m north to south and 550m east to west and encloses an area of roughly 35 hectares. There is evidence for a road or trackway that circumnavigates the precinct boundary.
In addition, a suggestion can now be made as to the location of the Abbey's docking facilities and the lode that fed them.
Item Type:
Client Report
Uncontrolled Keywords:
cccafu, ccc afu, CCCAFU, CCC AFU, Ramsey, ramsey, cambridgeshire, Cambridgeshire, report 894, 894, Report 894, boundaries, Boundaries, quarry pit, Quarry pit, Quarry Pits, medieval, Medieval, Late medieval, Late Medieval, Late medieval, Post-medieval, Post-Medieval, post-medieval, post medieval, Post Medieval, modern, Modern, Ramsey Abbey, ramsey abbey, dock, lode, road, trackway, CCCAFU report 894
Subjects:
Geographical Areas > English Counties > Cambridgeshire
Period > UK Periods > Medieval 1066 - 1540 AD
Period > UK Periods > Modern 1901 - present
Period > UK Periods > Post Medieval 1540 - 1901 AD
Depositing User:

Archives

Date Deposited:
14 Oct 2019 10:37
Last Modified:
14 Oct 2019 10:37
URI:
http://eprints.oxfordarchaeology.com/id/eprint/5454
Actions (login required)