Atkins, Robert and Muldowney, Mo (2006) Late Saxon to Post-medieval Manorial and Settlement Remains to the South of Wash Road, Kirton, Lincolnshire: An Archaeological Evaluation. [Client Report] (Unpublished)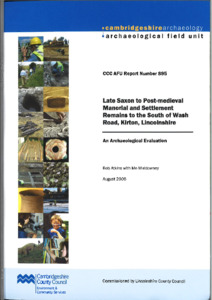 Preview
PDF




CCCAFU_report895.pdf


Available under License Creative Commons Attribution Share Alike.
Download (6MB) | Preview
Abstract
Between the 3rd and 14th July 2006, the Cambridgeshire County Council Archaeological Field Unit (CCC AFU) conducted Phase 1 of an archaeological evaluation (to which the main body of this report refers on land to the south of Wash Road, Boston (TF 3090 3680) in advance of proposed construction of a storage and distribution park. The work was commissioned by Lincolnshire County Council. The remaining twelve trenches, referred to as Phase 2, were located to the south of Princes Road (and Phase 1). This took place during June 2007 and the results are presented in Appendix 10.
Twenty-nine trenches (2% of the proposed development area) were mechanically excavated. The evaluation uncovered archaeological remains in the northern part of the site across an area measuring c.500m by c.80m. The remains consisted of at least four phases of settlement and manorial remains dating from the 10th century until around the 18th century.
The moat of Bozon Hall (dating from at least 1377), measuring 6m wide by 2.7m deep, runs into the north-western part of the site. The development area, including the former moat, was evidently affected by the enclosure of the parish in the 18th century when the site became fields.
Generally, the trenches near to the present Wash Road contained moderate to very dense archaeological remains with the frequency of features gradually diminishing towards the south. No pre-modern archaeological features were found in the southern area of the evaluation. Houses/structures (post holes and slots) were found in five trenches (Trenches 6, 13, 14, 19 and 30) with parts of several structures in Trenches 6, 13 and 14, all in the extreme northern part of the site. Pottery dating and stratigraphy imply that at least two structures in Trench 13 were Late Saxon in date, while a medieval structure was located in Trench 14 and a post-medieval (and possibly earlier) structure(s) in Trench 6. The Trench 6 structures were within the moated enclosure of Bozon Hall and presumably represent former manorial buildings. Large quantities of iron working smithing slag, including hearth bottom and lining, may indicate production during the post-medieval period, which perhaps originated in the Late Saxon period.
Other ditches (including curvilinear examples representing enclosures and boundaries) and pits were uncovered in many of the northern trenches. Their presence may imply that agricultural/industrial as well as domestic features survive across that area. Moderate to large assemblages of artefacts and ecofacts were found, many deriving from sequential deposition of domestic waste in a variety of features, which contained a high proportion of humic material and charcoal.
In all phases there is evidence for trade, social status and use of the landscape.
Item Type:
Client Report
Uncontrolled Keywords:
Report 895, 895, report 895, CCCAFU report 895, kirton, Kirton, Boston, boston, Lincolnshire, lincolnshire, cccafu, CCCAFU, CCC AFU, ccc afu, moat, Moat, post-medieval, Post-Medieval, Post-medieval, Post Medieval, post medieval, modern, Modern, Late Saxon, late saxon, Late saxon, late Saxon, Medieval, medieval, Pottery, pottery, manorial, Manorial, building, Building, slag, Slag, Agriculture, agriculture, industrial, Industrial, Humic, humic, charcoal, Charcoal, Status, status, Bozon Hall, settlement, structure, smithing, metalworking, metal working
Subjects:
Geographical Areas > English Counties > Lincolnshire
Period > UK Periods > Early Medieval 410 - 1066 AD
Period > UK Periods > Medieval 1066 - 1540 AD
Period > UK Periods > Modern 1901 - present
Period > UK Periods > Post Medieval 1540 - 1901 AD
Depositing User:

Archives

Date Deposited:
14 Oct 2019 10:29
Last Modified:
14 Oct 2019 10:29
URI:
http://eprints.oxfordarchaeology.com/id/eprint/5455
Actions (login required)