Muldowney, Liz (2006) Iron Age and other undated remains at Bassingbourn Village College, Bassingbourn, Cambridgeshire: An Archaeological Evaluation. [Client Report] (Unpublished)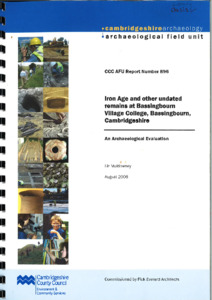 Preview
PDF




CCCAFU_report896.pdf


Available under License Creative Commons Attribution Share Alike.
Download (1MB) | Preview
Abstract
Between the 24th and 28th July 2006 the Cambridgeshire County Council Archaeological Field Unit (CCC AFU) conducted an archaeological evaluation at Bassingbourn Village College, Bassingbourn, in advance of the construction of a sports hall, an all-weather football pitch and a car park. The work was undertaken in accordance with a Brief issued by Cambridgeshire Archaeology Planning and Countryside Advice team (CAPCA), supplemented by a Specification prepared by the CCC AFU (James Drummond Murray 2006).
The evaluation sought to establish the character, date, extent and preservation of any archaeological remains within the proposed development area.
Eight trenches were excavated, seven of which contained archaeological remains. The archaeology was for the most part sparse, but three trenches in the southern area (Area 2) contained a number of ditches and some structural remains indicative of a possible settlement. Despite a general absence of datable finds, an Iron Age date seems likely from the recovered pottery. Modern activity was also recorded across both development areas that presumably relates to the use of the school.
Item Type:
Client Report
Uncontrolled Keywords:
cccafu, CCC AFU, CCCAFU, ccc afu, cambridgeshire, Cambridgeshire, bassingbourn, Bassingbourn, report 896, 896, Report 896, CCCAFU 896, ditch, Ditch,, settlement, Evaluation, evaluation, Settlement, Iron Age, iron age, Iron age, Pottery, pottery, Modern, modern, Iron Age pottery, iron age pottery, pot, ceramic, sherd
Subjects:
Geographical Areas > English Counties > Cambridgeshire
Period > UK Periods > Iron Age 800 BC - 43 AD
Period > UK Periods > Modern 1901 - present
Depositing User:

Archives

Date Deposited:
07 Oct 2019 08:57
Last Modified:
07 Oct 2019 08:57
URI:
http://eprints.oxfordarchaeology.com/id/eprint/5457
Actions (login required)