Cooper, Spencer (2008) Prehistoric and Roman Remains at Norwood Road, March: An Archaeological Evaluation, Excavation and Watching Brief. [Client Report] (Unpublished)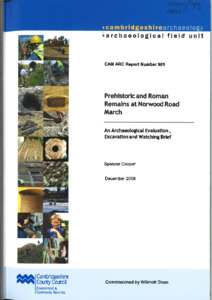 Preview
PDF




CAMARC_report901.pdf


Available under License Creative Commons Attribution Share Alike.
Download (1MB) | Preview
Abstract
An archaeological evaluation at Norwood Road, March, in August 2006 (NGR TL 4123 9772) revealed evidence of Roman and possible prehistoric occupation. A mitigation exercise was required which involved preservation in situ of archaeological remains at the north of the site and a small excavation to the south-west of the site.
Excavation took place between 11th and 16th September 2006 at short notice before the evaluation report was written the results of both phases of work and a subsequent watching brief are included in this report.
In the evaluation phase, Roman remains were located in the north-west quarter of the site. These were found in trenches 1,2, and 4 comprise mainly large ditches backfilled with charcoal-rich and relatively finds-rich fills. No finds were recovered from trenches to the south of these although it is clear that the north to south aligned ditches in Trenches 2 and 4 continued into Trenches 2, 5 and possibly 6. It is likely that these ditches are all part of a field system but that the ones in the northern trenches are likely to be close to occupation and may have doubled as property boundaries and have consequently been filled with rubbish deposits. There is some evidence to suggest that prehistoric activity was also taking place in the north-west quarter of the site since one large pit in Trench 1 contained struck flints. It is also possible that shallow, undated features (i.e. postholes and a possible beam slot) in Trenches 3 and 6 to the south may be evidence of prehistoric societies.
In the excavation phase an area 28m by 29m was opened in the south-western part of the development area. This revealed a number of Iron Age/Roman ditches which were part of a field system. In addition, post-medieval structural remains were uncovered.
Item Type:
Client Report
Uncontrolled Keywords:
report 901, 901, Report 901, March, march, cambridgeshire, Cambridgeshire, Roman, roman, Prehistoric, prehistoric, pottery, Pottery, ditch, Ditch, boundary, Boundary, Flint, flint, Iron Age, iron age, Iron age, field system, Field System, Field system, post-medieval, Post-medieval, Post-Medieval, pit, Pit, post medieval, Post Medieval, structure, Iron Age pottery, iron age pottery, Iron age pottery, Roman pottery, roman pottery, evaluation, Evaluation, Excavation, excavation, Watching Brief, watching brief, CAMARC report 901, posthole, post hole, postholes, post holes, beamslot, beam slot, pot, ceramic, sherd
Subjects:
Geographical Areas > English Counties > Cambridgeshire
Period > UK Periods > Iron Age 800 BC - 43 AD
Period > UK Periods > Post Medieval 1540 - 1901 AD
Period > UK Periods > Roman 43 - 410 AD
Depositing User:

Archives

Date Deposited:
07 Oct 2019 07:44
Last Modified:
07 Oct 2019 07:44
URI:
http://eprints.oxfordarchaeology.com/id/eprint/5459
Actions (login required)