Muldowney, Mo (2006) Post-medieval Landscaping at Morston Hall, Morston, Norfolk: An Archaeological Evaluation. [Client Report] (Unpublished)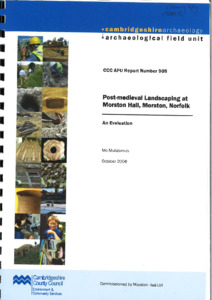 Preview
PDF




CCCAFU_report908.pdf


Available under License Creative Commons Attribution Share Alike.
Download (1MB) | Preview
Abstract
Cambridge County Council Archaeological Field Unit was commissioned by Morston Hall Limited to undertake an evaluation in the grounds of Morston Hall, Morston, Norfolk. The work took place on the 10th and 11th September 2006.
The evaluation was required to establish the presence (or otherwise) of formal pathways or other garden features indicated on the 1838 Tithe Map. Two trenches were excavated by machine within the footprint of the proposed development area near the south-west corner of the garden.
A single deposit was identified in both trenches. It was probably a levelling layer, perhaps relating to the re-building of Morston Hall in the late 18th and 19th centuries. No other archaeological features were present.
Item Type:
Client Report
Uncontrolled Keywords:
cccafu, ccc afu, CCCAFU, CCC AFU, Morston, morston, norfolk, Norfolk, Tithe, tithe, Tithe Map, 1838 Tithe Map, tithe map, Tithe map, pathway, Pathway, Garden, garden, Levelling layer, levelling layer, Levelling Layer, CCCAFU report 908, 908, report 908, Report 908, post-medieval, post medieval, Post Medieval, post-Medieval
Subjects:
Geographical Areas > English Counties > Norfolk
Period > UK Periods > Post Medieval 1540 - 1901 AD
Depositing User:

Archives

Date Deposited:
10 Sep 2019 12:45
Last Modified:
10 Sep 2019 12:45
URI:
http://eprints.oxfordarchaeology.com/id/eprint/5462
Actions (login required)