Thacker, Gerry and Packard, Chris Buckton Fields West, Northampton. [Client Report] (Unpublished)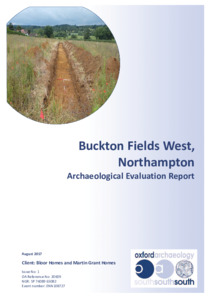 Preview
PDF




BBFW17.pdf


Download (6MB) | Preview
Abstract
During June to August 2017 Oxford Archaeology South undertook two stages
of trial trench evaluation at Buckton Fields West, to the north of Northampton.
In total 41 trenches were opened across the site, targeted on the results of a
geophysical survey, and to test 'blank areas'.
The evaluation uncovered evidence for activity from the Mesolithic and
Neolithic periods in the form of isolated struck flints, and also of middle Iron
Age date, although this was limited to a few features.
Evidence for occupation of the site during the later Iron Age into the early and
middle Roman periods was more extensive and took the form of a fairly
extensive array of ditches and pits focused on the central and western parts
of the evaluated area. The pottery from several of these features was
recovered in fairly large sherds and appeared unabraded, suggesting that it
was deposited in the vicinity of settlement. The presence of imported pottery
suggests a site of at least moderate status. Fired clay derived from a domestic
oven or related to crop processing, and also possibly from a metalworking
furnace was present, as were the remains of fallow deer, which are very rare
from Romano‐British contexts. The presence of axially split cattle bones also
from Roman contexts may indicate that specialist butchery was carried out
within the site. Waterlogged material of probable Roman date was present in
a lower lying area within in the south‐western part of the site.
Several trenches contained closely spaced parallel ditches, which did not have
the form of medieval or later plough furrows. These were present on several
alignments, and where dated contained Roman material. These could
represent arable cultivation of Roman date.
Actions (login required)