Vellet, Peter Land off Swarkestone Road, Chellaston, Derby. [Client Report] (Unpublished)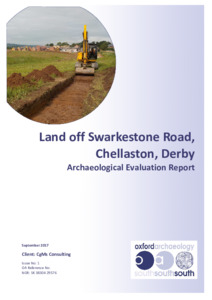 Preview
PDF




SWCF17.pdf


Download (15MB) | Preview
Abstract
Oxford Archaeology (OA) was commissioned by CgMs Consulting to undertake a trial
trench evaluation on Land off Swarkestone Road, Chellaston, Derby, centered on NGR
SK 38304 29576. A programme of 37 trenches was undertaken, laid out to provide a
good general coverage of phases 2, 3 and 4 of the development site. Due to
restrictions caused by the presence of spoil heaps and ground-nesting birds, 10 of the
trenches were either abandoned or shortened.
The results of the evaluation demonstrated a sparse distribution of archaeological
activity across phases 2, 3 and 4 of the development. A single concentration of
prehistoric and Roman activity was identified in the north-eastern corner of phase 4.
An alignment comprising 13 distinct intercutting ditches was observed running on a
ENE-WSW alignment in trenches 6 and 14. This activity represented a substantial
boundary spanning the Iron Age to Late Roman periods. The frequency of intercutting
ditches and clear migration of the linear system is typical of a multi-phase and long
standing landscape division.
This was supported by the pottery assemblage, which provided a date range of the
Iron Age to the Late Roman period. Although the assemblage was small and only
found in two of the 13 ditches, the material was recovered from early and late within
the sequence, providing a reasonably accurate date range for the alignment.
The remainder of the site contained isolated linear features representing postmedieval
agricultural boundary and drainage ditches. A small number of isolated
discrete features, namely small to medium sized pits, were also observed and likely
associated with this agricultural landscape. Although sparse, dating evidence from
these features provided a date range of the 17th to 20th centuries.
Two ditches, identified in trenches 15 (1503) and 31 (3103), were also interpreted as
boundary ditches, although their profiles were suggestive of earlier features.
Unfortunately, no dating evidence was recovered from either boundary.
Of note was a sinuous stone built drain observed in Trench 17 and subsequently in
trenches 20 and 22. The full extent and purpose of the feature in the landscape was
not determined, although the 1901 Ordnance Survey map clearly shows a
concentration of quarrying activity to the north and east to which the drain may have
been related. While no definitive dating evidence was recovered from the stone drain,
a piece of struck flint interpreted as a possible gun flint or strike-a-light was found in
the backfill of a robbers cut associated with the stone drain.
Actions (login required)