Anderson, Natalie and Carne, John Land adjacent to Rokeby Primary School, Rugby, Warwickshire. [Client Report] (Unpublished)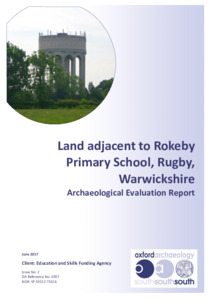 Preview
PDF




RURO17.pdf


Download (4MB) | Preview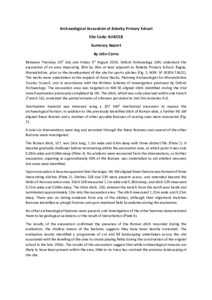 Preview
PDF




RURO18.pdf


Download (2MB) | Preview
Abstract
Between 15th May and 2nd June 2017, Oxford Archaeology undertook an
archaeological evaluation comprising 42 trenches on land forming a proposed
redevelopment of Rokeby Primary School. The site was divided into two areas:
playing fields associated with the existing school to the north and arable fields
to the south.
The trenches were positioned to ground-truth the results of a geophysical
survey previously undertaken.
Extensive landscaping, including both cuts and fills, was observed within the
playing fields. Only a small area appeared to have potential for archaeological
remains to survive.
Within this area two ditch terminals were recorded, of which one contained
an assemblage of 2nd- to 3rd-century Roman pottery. No other archaeological
features predating the post-medieval period were recorded across the
development area.
Evidence for post-medieval agricultural activity was observed within the
southern area and in parts of the northern fields, consisting of former field
boundaries and furrows.
Features identified in the geophysical survey were proven in the trenches,
along with additional features including the ditch terminals, that were not
recorded by the geophysical survey
Between Thursday 26th July and Friday 3rd August 2018, Oxford Archaeology (OA) undertook the
excavation of an area measuring 30m by 30m at land adjacent to Rokeby Primary School, Rugby,
Warwickshire, prior to the development of the site for sports pitches (Fig. 1; NGR: SP 50206 73422).
The works were undertaken at the request of Anna Stocks, Planning Archaeologist for Warwickshire
County Council, and in accordance with the Written Scheme of Investigation produced by Oxford
Archaeology. The excavation area was targeted on NW-SE aligned ditch identified during the trial
trench evaluation previously completed by OA. The ditch, which was only observed within one trench
(Trench 16), contained the partial remains of a Roman pot dated to 2nd-3rd centuries A.D.
Actions (login required)