Hughes, Vix and Schofield, Peter (2003) Cuerden, Central Lancashire. Archaeological Assessment and Walkover Survey. [Client Report] (Unpublished)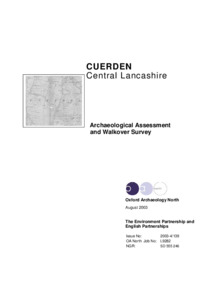 Preview
PDF




L9282_CuerdenRep2003_FullRep.pdf


Download (17MB) | Preview
Abstract
Following a request by Cath Neve of The Environment Partnership, Oxford Archaeology North (OA North) undertook a desk-based assessment in January 2002, and walkover
survey in August 2003, of a proposed development area (SD 555 246) in central Lancashire in the immediate vicinity of the western extension of the M65. This is intended to identify the extent and significance of the archaeological resource and surviving extant archaeological features in anticipation of potential development within the study area.
The desk-based assessment examined primary records held within the Lancashire County Record Office, the Lancashire Sites and Monuments Record, and local studies libraries in
Lancaster. It highlighted numerous indications of archaeological potential from within the study area and sites in close proximity. In total, nine existing SMR sites are situated within the study area, the majority of which are areas of relict field system recorded as being of
medieval or earlier date. This concurs with the Historic Landscape Character database, held at the Lancashire County Archaeology Service, which defines the study area as being of medieval character. At the eastern side of the study area is the purported line of the Wigan to Preston Roman Road, although the road in this area has not been located. In the northwestern part of the study area is the Old School House, a seventeenth century building, which is of Listed Grade II status and of potential local archaeological importance, and also the site of the now demolished Pinfold House.
The walkover survey identified nineteen new archaeological sites within the proportion of the assessment area given access to. These sites included thirteen extant marl pits, an area of possible medieval strip-fields and five other grubbed-out sections of field boundary ditches relating to fields shown on the c1700 Estate Map and the First Edition Ordnance Survey Map.
Actions (login required)