Gilmour, Nick (2009) Neolithic to Early Roman Archaeology at Dimmock's Cote, Wicken, Cambridgeshire. [Client Report] (Unpublished)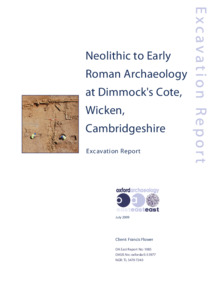 Preview
PDF




WICDIC08_Report1085_final_LR.pdf


Available under License Creative Commons Attribution Share Alike.
Download (8MB) | Preview
Abstract
Between 1st and 19th September 2008, an open area excavation was carried out by Oxford Archaeology East in advance of the extension of a lime quarry at Dimmock's Cote, Wicken. The excavation located several pits of Early Neolithic date, some containing pottery of Mildenhall type and struck flints including a single piece sickle. A Middle-Later Bronze Age pit, containing pottery of Deverel-Rimbury type, was also excavated. A tightly crouched burial radiocarbon dated to the Late Bronze Age was adjacent to, and slightly on top of, this pit. Another crouch burial, with a complete pottery vessel, was radiocarbon dated to the Later Iron Age. Two undated, unurned cremations were also deposited on the site.
A Late Iron Age and Early Roman field system was recorded along with two small enclosures. Neither of these has an obvious function and it is possible that at least one of them relates in some way to mortuary practices.
This work followed on from several previous phases of excavation in the quarry and taken together these excavations provide a picture of the changing use of the land on a limestone promontory in the Southern Cambridgeshire Fenlands.
Item Type:
Client Report
Uncontrolled Keywords:
Excavation, excavation, archaeological excavation, Cambridgeshire, cambridgeshire, Wicken, wicken, Dimmock's Cote, Dimmock's cote, Dimmocks Cote, dimmocks cote, quarry, Neolithic, neolithic, Early Neolithic, early neolithic, Mildenhall pottery, mildenhall pottery, Bronze Age, bronze age, pottery, Pottery, Neolithic pottery, neolithic pottery, Early Neolithic pottery, early neolithic pottery, Bronze Age pottery, bronze age pottery, Deverel-Rimbury type, deverel-rimbury type, Deverel-Rimbury, deverel-rimbury, pit, pits, worked flint, worked lithics, lithics, lithic implement, flint, flints, sickle, burial, Burial, crouch burial, HSR, hsr, human remains, Human Skeletal Remains, human skeletal remains, cremation, Cremation, unurned, Unurned, unurned cremation, Unurned Cremation, field system, agriculture, Roman, roman, Late Iron Age, late iron age, Roman field system, roman field system, Late Iron Age field system, late iron age field system, C14, C14 dating, 1085, Report 1085, report 1085, OAE report 1085
Subjects:
Geographical Areas > English Counties > Cambridgeshire
Period > UK Periods > Bronze Age 2500 - 700 BC
Period > UK Periods > Iron Age 800 BC - 43 AD
Period > UK Periods > Bronze Age 2500 - 700 BC > Late Bronze Age 1000 - 700 BC
Period > UK Periods > Iron Age 800 BC - 43 AD > Late Iron Age 100 BC - 43 AD
Period > UK Periods > Neolithic 4000 - 2200 BC > Late Neolithic 2700 - 2200 BC
Period > UK Periods > Bronze Age 2500 - 700 BC > Middle Bronze Age 1600 - 1,000 BC
Period > UK Periods > Neolithic 4000 - 2200 BC
Period > UK Periods > Roman 43 - 410 AD
Divisions:
Oxford Archaeology East
Depositing User:

Hamilton

Date Deposited:
04 Oct 2019 07:23
Last Modified:
04 Oct 2019 07:23
URI:
http://eprints.oxfordarchaeology.com/id/eprint/5492
Actions (login required)