Cox, Nicholas and Moan, Louise (2019) Bronze Age to Post-Medieval Remains to the North-East of Beech Road, Saxmundham, Suffolk. [Client Report] (Unpublished)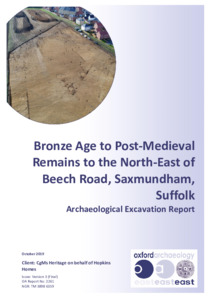 Preview
PDF




SXM051_Final.pdf


Available under License Creative Commons Attribution Share Alike.
Download (14MB) | Preview
Abstract
Between 20th September and 2nd November 2018 Oxford Archaeology East (OA East) conducted an archaeological excavation on land to the north-east of Beech Road, Saxmundham, Suffolk. An area c. 1.1ha in size was stripped ahead of the construction of 59 dwellings and associated amenities.
An area of Iron Age and Early Anglo-Saxon settlement had previously been excavated on adjacent land to the south-west in 2015, prior to the construction of the northern end of Beech Road itself.
The current site revealed a low density of features spanning the later prehistoric to Early Roman periods, which were buried beneath a thick layer of colluvium within the northern and lower part of the site. Features across the site consisted of pits, postholes, a probable boundary marker post-pit and three ditches containing sparse assemblages of (residual) Neolithic, Early Bronze Age and Iron Age through to Early Roman pottery along with struck flint and fired clay. A large number of the features uncovered were devoid of datable material.
A moderate quantity of pottery was recovered from the colluvium, ranging from Iron Age through to post-medieval in date. A total of 62 metal artefacts was also recovered from these deposits, including a Late Bronze Age chisel, a Roman cosmetics pestle, a number of Roman and Anglo-Saxon brooches, two pilgrim's flasks, 1st century Roman coins, medieval coins and trade tokens. No evidence for the continuation of the Anglo-Saxon settlement to the south-west was discovered.
Item Type:
Client Report
Uncontrolled Keywords:
Excavation, excavation, archaeological excavation, Suffolk, suffolk, Saxmundham, saxmundham, Roman, roman, ditch, pit, post hole, pottery, Roman pottery, roman pottery, Early Bronze Age, early bronze age, Iron Age, iron age, Early Bronze Age pottery, early bronze age pottery, Iron Age pottery, iron age pottery, fired clay, worked flint, lithic, lithics, flint, flints, Neolithic, neolithic, colluvium, Colluvium, coin, brooch, Post-Medieval, post-medieval, Post Medieval, post medieval, 2261, report 2261, Report 2261, OAE report 2261
Subjects:
Geographical Areas > English Counties > Suffolk
Period > UK Periods > Bronze Age 2500 - 700 BC > Early Bronze Age 2500 - 1500 BC
Period > UK Periods > Iron Age 800 BC - 43 AD
Period > UK Periods > Medieval 1066 - 1540 AD
Period > UK Periods > Neolithic 4000 - 2200 BC
Period > UK Periods > Post Medieval 1540 - 1901 AD
Period > UK Periods > Roman 43 - 410 AD
Divisions:
Oxford Archaeology East
Depositing User:

Hamilton

Date Deposited:
04 Oct 2019 08:01
Last Modified:
04 Oct 2019 08:01
URI:
http://eprints.oxfordarchaeology.com/id/eprint/5493
Actions (login required)