Hughes, Vix (2003) Borrans Park, Ambleside, Cumbria. Archaeological Investigation Report. Project Report. Oxford Archaeology North. (Unpublished)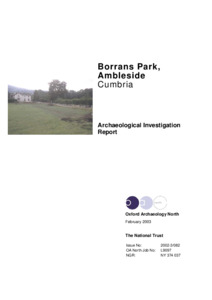 Preview
PDF




9097_CompleteReport.pdf


Download (1MB) | Preview
Abstract
An archaeological investigation was carried out by Oxford Archaeology North (OA North), on behalf of the National Trust, in August 2002, as a mitigation response to a service trench which was excavated, without archaeological supervision, on National Trust land. The land lies in the grounds of Borrans Park residential house and forms part of the vicus around the Roman fort at Ambleside, known as Galava, (NGR NY 374 037), and is within a scheduled
monument (SM 13567). The investigation involved the examination of two exposed ends of a partially backfilled service trench and two small trial pits.
The main trench was aligned east/west and measured approximately 75m in length 1.2m in width and had a maximum depth of 0.8m. The western end of this trench was referred to as Trench 1, the eastern end as Trench 2, the total length of trench examined in the main trench was 9.5m. Trench 3 was located just north of Trench 1 and Trench 4 was just north and west of Trench 2. The results from Trenches 2, 3 and 4 were minimal revealing the remains of a previous backfilled service trench and natural deposits. In contrast Trench 1 revealed as series of deposits of confirmed Roman date. These deposits included the remains of a possible metal working structure, associated with rake out material derived from fuel combustion, possible surfaces and numerous layers.
Actions (login required)