Miller, Ian (2002) Old Carlisle, Wigton, Cumbria. Archaeological Recording. Project Report. Oxford Archaeology North. (Unpublished)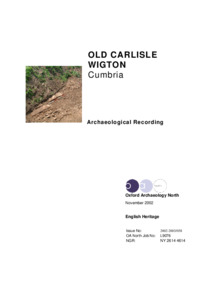 Preview
PDF




Completerep.pdf


Download (11MB) | Preview
Abstract
A programme of archaeological recording was carried out by Oxford Archaeology North (OA North), on behalf of English Heritage, at Old Carlisle, Wigton, Cumbria (NY 2614
4614), during June 2002. The work was required to provide a mitigation record of the archaeological features that had been exposed during the topsoil strip in advance of the
construction of a yard for the adjacent farm. In order to minimise disturbance to the archaeological features, they were subject to a light cleaning and detailed planning, with a specific requirement that the work should not excavate deeper than the exposed surface.
The site lies c116m east of the Roman fort at Old Carlisle, and is within the area of the Scheduled Monument (SM CU8). Despite its position behind the line of Hadrian's Wall,
the fort is clearly an integral component of the Hadrianic Frontier system; it is situated on the Roman road linking Carlisle to Papcastle, perhaps to protect the south flank of the Solway Plain. The associated extramural settlement is particularly intriguing, not least for being the only one to have produced epigraphic evidence for a 'village' council. Very little is known, however, about he chronological development of the settlement, reflecting the very limited amount of archaeological excavation undertaken there.
A maximum depth of 0.3m of topsoil/ploughsoil, across and area measuring c18m by 14m, had been stripped by the landowner. The archaeological cleaning of the exposed surface subsequently revealed a suite of Roman remains, including a well-preserved section of the road that led out from the east gate of the fort, and evidence of at least one substantial building, providing important new evidence of the nature, character, and extent of the extramural settlement at Old Carlisle.
Actions (login required)