Bates, Andy (2006) Haweswater Aqueduct Enabling Works, Cumbria. Archaeological Evaluation and Watching Brief. [Client Report] (Unpublished)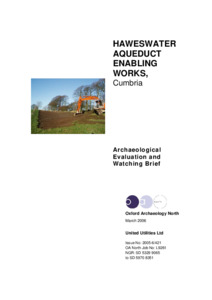 Preview
PDF




completereport.pdf


Download (75MB) | Preview
Abstract
Oxford Archaeology North (OA North) was commissioned by United Utilities to carry out a programme of archaeological works along the proposed route of a pipeline between Oxenholme, (SD 5329 9065) and Old Town, Mansergh, (SD 5970 8351) Cumbria. The initial phase of this work involved the production of a desk-based assessment and walkover survey report for the proposed route, the results of which are
presented in an earlier report (OA North 2003). Further to this, archaeological evaluation of selected sites and a watching brief maintained during groundworks in
areas considered to be archaeologically sensitive, were recommended by Cumbria County Archaeology Service (CCAS). The fieldwork was undertaken by OA North during July and August 2004. This report sets out the results of these latter two phases of work.
The evaluation comprised four trenches, all of which were targeted directly on sites identified in the desk-based assessment and walkover survey (Sites 9, 17, 23 and 34).
All of the trenches were excavated within the pipeline easement.
Archaeological deposits were only encountered in two of the four trenches. Trench 3 (Site 17) revealed an undated metalled track. Trench 4 (Site 34) was targeted on a
shallow circular earthwork with an opening in the west. The earthwork comprised a dry-stone wall and an earthen bank, with a central drainage gully from which a late post-medieval copper alloy button was recovered. The structure has been interpreted as a sheepfold.
Actions (login required)