Tonks, David (2003) 124 Highgate, Kendal, Cumbria. Archaeological Desk-Based Assessment and Watching Brief. Project Report. Oxford Archaeology North. (Unpublished)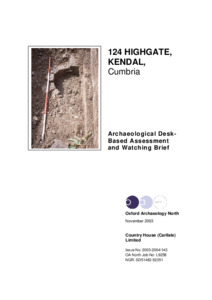 Preview
PDF




CompleteRep.pdf


Download (38MB) | Preview
Abstract
A desk-based assessment and watching brief was undertaken by Oxford Archaeology North (OA North) in July 2003 at 124 Highgate, Kendal, Cumbria (centred on SD 51463 92351). The work was commissioned by Anthony Irving of Country House
(Carlisle) Limited following the proposed construction of a new extension to the present building.
The proposed development area lies behind the present building, which is of mid to late twentieth century origin, and is within an area of known archaeological sensitivity. The desk-based assessment identified several sites within the vicinity of the site which are of particular historical significance to Kendal, including Trinity Church, Castle Howe and Abbot Hall. The desk-based assessment also demonstrated that the site was within an area of high archaeological potential as the layout of Kendal shows continuity from its development in the medieval period.
During the watching brief the groundworks involved reducing the surface of the development area to a general depth of 425mm below the current floor level of the existing building, with an additional three trenches being excavated to a further depth of 175mm. The excavations were undertaken to support a concrete raft foundation.
Actions (login required)