Bates, Andy (2004) Site 123, Harrison Coombe, Great Langdale, Cumbria. Archaeological Excavation. Project Report. Oxford Archaeology North. (Unpublished)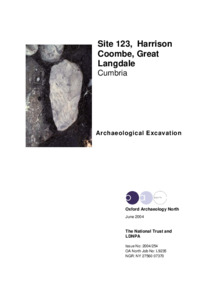 Preview
PDF




L9235Report.pdf


Download (18MB) | Preview
Abstract
Due to the problem of footpath erosion, the Lake District National Park Authority wished to upgrade the footpath over Pike of Stickle (NY 27560 07370). This involved works on a
known prehistoric Langdale Axe production site, Site 123, Harrison Coombe, where the footpath has caused considerable erosion in the area. Site 123 represents the largest of the
Type D axe factories, which are those where stone has been worked away from a source of the raw material. Prior to the work taking place, and following a verbal brief issued by the Lake District National Park Authority Archaeologist, Oxford Archaeology North was invited to submit a Project Design for a small-scale mitigation excavation on the area of the site to be effected by the proposed works. They were commissioned to undertake the work in May of 2003 and undertook the work in July 2003.
An area measuring 7.70m by 2.0m wide was excavated as a single trench, and a peat hag located to the north-east of the excavated area was also cleaned and recorded. Within the
trench a single layer of worked waste flakes was located, which had been evidently disturbed over much of the area of the excavation by footpath erosion. Two rough outs were also recovered from the flake layer, although this report does not detail the results of the finds analysis which will be published in full at a later date. Similarly, the results of the environmental samples will also be included within a later publication. An area at the north-western end of the trench was considered to contain sealed deposits undisturbed by erosion, and was, subsequently, sampled. A bulk sample was taken from the flake layer, and a monolith from the section. Subsequent radio carbon dates, obtained from the charred seeds of crowberry (Empetrum nigrum), produced a date of 5968-5732 CalBC (KIA23485). The flake layer was also located within the recorded peat hag, but was only present intermittently. A monolith was also taken from an exposed section, but the material it contained was not considered suitable for further work.
Actions (login required)