Lucking, Thomas (2019) Land south of Wells Road, Hindringham, Norfolk. [Client Report] (Unpublished)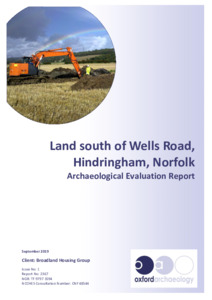 Preview
PDF




OAE_Report_2367_XNFHWR19.pdf


Available under License Creative Commons Attribution Share Alike.
Download (6MB) | Preview
Abstract
Between the 19th and 20th of August 2019, OA East undertook an archaeological trial trench evaluation on land south of Wells Road, Hindringham, Norfolk (TF 9797 3594). A total of four trenches were excavated.
The fieldwork identified archaeological features in three of the four trenches in the middle and western parts of the site. The earliest phase of activity was represented by a single ditch of probable late Iron Age date excavated in Trench 4, which yielded a quantity of pottery and burnt flint from this period.
A later phase of medieval or post-medieval activity was revealed in the form of a single ditch on the western edge of the site, which was present in Trenches 1 and 3. This feature was perpendicular to the modern road and generally aligned with other boundaries in the surrounding landscape. Only small fragments of undiagnostic pottery were recovered from the top fill of this feature in Trench 1.
Overall, the trenching has confirmed the presence of archaeological remains on the site. These remains date from the Iron Age and medieval/post-medieval periods.
Item Type:
Client Report
Uncontrolled Keywords:
Norfolk, norfolk, Hindringham, hindringham, Evaluation, evaluation, archaeological evaluation, Iron Age, iron age, Pottery, pottery, pot, ceramic, sherd, Iron Age pottery, iron age pottery, Medieval, medieval, Post-Medieval, post-medieval, Post Medieval, post medieval, ditch, coin, 2367, report 2367, Report 2367, OAE report 2367
Subjects:
Geographical Areas > English Counties > Norfolk
Period > UK Periods > Iron Age 800 BC - 43 AD
Period > UK Periods > Medieval 1066 - 1540 AD
Period > UK Periods > Post Medieval 1540 - 1901 AD
Divisions:
Oxford Archaeology East
Depositing User:

Hamilton

Date Deposited:
07 Feb 2020 11:17
Last Modified:
07 Feb 2020 11:17
URI:
http://eprints.oxfordarchaeology.com/id/eprint/5525
Actions (login required)