Quartermaine, Jamie (2007) ALSF Aggregate Extraction in the Lower Ribble Valley. Final Report Volume 2: Illustrations and Bibliography. Project Report. Oxford Archaeology North. (Unpublished)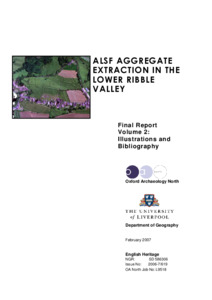 Preview
PDF




L9518 Final Report Vol 2 complete.pdf


Download (119MB) | Preview
Abstract
This report presents the results of the ALSF Ribble Valley Aggregate Extraction project, which was a study of the aggregate and archaeological potential of the Lower and Upper Ribble Valley; the study area originally extended between Preston, in Lancashire and Settle in the Craven District of North Yorkshire, although during the course of the project more emphasis was placed on a study of the Lower Ribble Valley and the results are presented in ths report. The work was undertaken between May 2005 and December 2006
as a joint project between the University of Liverpool Geography Department and Oxford Archaeology North (OA North), and was funded by the Aggregates Levy Sustainability
Fund (ALSF) under the overall management of English Heritage. The responsibility of the project was split such that the University of Liverpool undertook the geological and geomorphological elements of the project whilst OA North undertook the archaeological elements, and the palaeobotanical elements were undertaken jointly.
The geomorphological objectives of the project were to collate evidence on all past and present aggregate extraction, produce revised estimations and mapping of suitable resources for future extraction, and produce mapping of present and future geomorphological change. The archaeological objectives were to collate evidence for all
archaeological activity and, by the means of an exhaustive survey of LiDAR, aerial photography, field survey and other methods, find new archaeological sites and assess the
potential for sites within areas of potential extraction. The data were assimilated into a GIS system, which was integral to the project, and the archaeological data and
geomorphic data were subject to spatial analysis to provide an assessment of the areas of greatest potential for each element. A final objective was to integrate these two strands and assess the potential impact of aggregate extraction or geomorphological change on the archaeological resource.
Actions (login required)